Andri Snær Magnason
Andri Snær Magnason is an Icelandic writer, born in Reykjavik 1973. His most recent book Tímakistan won the Icelandic literary Award and was nominated for the Nordic Council Children's book Award.
Magnason has written novels, poetry, plays, short stories, essays and created CDs. He is the co-director of the documentary film Dreamland. His work has been published or performed in more than 30 countries. His novel LoveStar was nominated for the Philip K. Dick Award in 2013, and was chosen Novel of the year by Icelandic booksellers. It also received the DV Literary Award.
His children's book, The Story of the Blue Planet, was the first children's book to receive the Icelandic Literary Prize and has been published or performed in 26 countries. Blue Planet received the Janusz Korczak Honorary Award in 2000, the West Nordic Children's Book Prize in 2002, and The Green Earth Honor Award in 2013.
Magnason has collaborated with various artists in the fields of activism, architecture and theater – mostly with a band called Múm. He has been active in the fight against the destruction of the Icelandic Highlands. His book Dreamland – A Self Help Manual for a Frightened Nation takes on these issues. Dreamland has been published in English, Danish, German, Spanish and Japanese and has become a feature length documentary film.
Links
Related content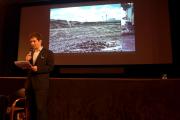 The international symposium Frontiers of Solitude, organized as part of the eponymous art project site will offer a comparison of the opinions, experiences, and points of view of artists, curators, and invited guests on the theme of transitions in the landscape in which we currrently live and of which we are a part. …