Dana Recmanová
Dana Recmanová, Mgr. (b. 1970, Havířov) holds a masters degree in media studies from the Faculty of Social Sciences (1996-9). In 1997, she worked as a assistant in the studio of video-multimedia-performance at the Faculty of Fine Arts in Brno. From 1997-1999, Recmanová worked as the editor of cultural programs for the English-language service of Czech Radio.
From 1999-2003, she developed an international artist residency program at the Chateau in Cimelice for the Center for Contemporary Arts Prague. In 2001 she co-founded and co-directed the program for artist residencies Studio Jelení in Prague. She has participated in production, managerial or curatorial capacities in a number of specific projects (Cafe9.net - Implementation of a one-year international project for the European Capitals of Culture 2000 (Avignon, Helsinki, Krakow, Brussels, Prague, Reykjavik); focusing on the educational and cultural potential of the Internet and electronic technologies: 2001: Archaeology of new media; 2003 at the Goethe Institute in Prague, the F@Media Forum in Prague and Freistadt).
Since autumn 2004, except fo a break for maternity leave from 2009-11, Remanová is the co-curator and program manager, ensuring the operation Školská 28 Communication Space. Between 2005-8, Školská 28 was affiliated with the artist residency project of the Linhart Foundation at Open Studios in Dolní Počernice, which included a global grant from the Unesco-Aschberg Bursaries International. She served on the Ministry of Culture Commission for the selection of artists to the Egon Schiele Center in Český Krumlov, and on the commission for the arts at the Theatre Institute for the selection of artists for residencies abroad.
Related content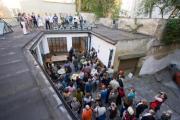 Gallery Školská 28 (DEAI/Setkání) is a multifunctional space for nonprofit cultural and artistic activities, founded in Prague in 1999. The programming concept of the space arises from the specific characteristics of the location where it is situated, and the space offers the community a variety of public activities connected to social life. …