Daytrip to Biedjovággi Mine
Biedjovággi Mine is located roughly one hour from Kautokeino by car (36km). The mine is no longer active: only a single building still remains and most of the pits have been filled with water. The mine was an open pit copper mine that operated during two periods; first from 1969-75 and then from 1985-91. It was never able to produce an economic surplus, partly due to the harsh weather conditions in the area and a lower concentration of copper than expected.
From early on there were concerns regarding the contamination of reindeer pastures due to heavy metals and chemicals released by the mine. Legal procedures on behalf of local Sami reindeer herders started almost simultaneously with mining operations in the late 60s. The mine was forced to pay a relatively modest sum in compensation, arrived at by calculating the size of pasture areas lost, rather than the direct economical impact on the herders. As a result, several herding families moved their operations, while others gave up herding completely.
Because of recent increases in mineral prices, mining operations in Biedjovággi are once again being discussed. In 2013 a proposal by the Swedish mining corporation Artic Gold was narrowly defeated by a 10-9 vote in the Kautokeino council.
A renewed interest in mining is not only a local issue, but also a national one. Both the previous government (a labour-left coalition headed by Jens Stoltenberg) and the current government (centre-right coalition headed by Erna Solberg) have allocated considerable sums to mineral surveys and reports. In the broader perspective the interest in mineral extraction is part of an ongoing discourse related to what the Norwegian economy will look like once the majority of large oil fields on Norwegian territory have been exploited and an oil-based economy is no longer viable.
Related content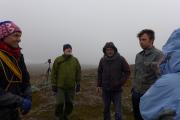 The Norwegian part of the project will encompass a 10-day expedition/workshop with artists from all three participating countries in the county of Finnmark in northern Norway from 20 to 30 September, 2015. The focus of the expedition will be on mining activity in the region and its effect on the local landscape. …