Dominik Lukács Žižka
Dominik Lukács Zizka (b. 1987) documents the expedition to the Most basin in the Czech Republic. He lives and works in Prague. Dominik graduated with a master degree from the Interactive Media Departement at the University of Jan Evangelista Purkyně in Ústi nad Labem. He also studied in Belgium at the Experimental Studio Volta specializing in installation, performance, video and sound.
Dominik works mainly with video, sound and installations. He has documented a number art projects, such as the Cantalone group at the Histeria Festival in 2011 and 2012 in Slovenia, parts of the Six Acts workshop. He also documented events at the Prague Quadrennial 2011, including the project Kam Ustime? which was conceived by students from DAMU (2012), part of the 736km Art project that took place between Prague and Gdańsk (2010), and the festival and symposium Vs. Interpretation by the Agosto Foundation in Prague 2014.
Related content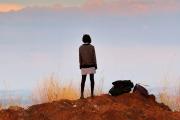 The focus of the expedition and workshops in the landscape around the Most Basin is on current changes in the heavily industrialized landscape, especially with regard to the loss of historical continuity, the transfers of geological layers and social structures, and current discussions about the abolition of territorial limits, as well as the potential for further degradation and exploitation of the landscape by extensive open cast mining. …