Elvar Már Kjartansson
Elvar Már Kjartansson (b. 1982) is a sound craftsman and explorer. Under the name of Auxpan he creates musical experiences in which soundbites, rhythmic patterns produced by self-developed devices, and field recordings come together in an experimental and highly personal sound experience.
Kjartansson has performed at numerous festivals in Iceland and abroad, and has done commissioned work and exhibitions, exploring the myriads of properties and characteristics of sound. He is based in Reykjavík and Seyðisfjörður, Iceland. 
Links
Related content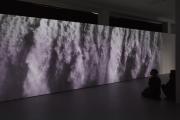 Dům umění Ústí nad Labem September – October 2016 http://duul.ujep.cz/ An exhibition and symposium created within the framework of the international transdisciplinary project Frontiers of Solitude. .. there are many, many other worlds, yes, but they are all hidden within this one. And so to neglect this humble, imperfect, and infinitely mysterious world is to recklessly endanger all the others. Earth in Eclipse-an Essay on the Philosophy of Science and Ethics David Abram …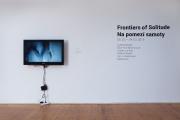 Photographer: Tomáš Hrůza Prague, 5 February to 4 March, 2016 Galerie Školská 28 Fotograf Gallery Galerie Ex Post …