Laboratory of Insurrectionary Imagination
For more than ten years, the Laboratory of Insurrectionary Imagination (Labofii) has been bringing together artists and activists in order to co-create new forms of resistance and disobedience. Our aim is not to represent the world and its crises but to transform it, by using social movements as its material and creating a culture of resistance. Through a myriad of experiments, from launching a rebel raft regatta to shut down a coal fired power station, to turning bikes into machines of disobedience during the Copenhagen climate summit, or moving to a land based collective in search for reconnection as well as a desire to build a territory in resistance, we have explored various ways in which liminal spaces are the most productive.
Isabelle Frémeaux was a senior lecturer in Media and Cultural Studies at Birkbeck College-University, London, until she resigned in December 2011 to escape wage labour and academia. Her action research explores popular education, storytelling and creative forms of resistance. John Jordan is an art activist. He co-founded the direct action groups Reclaim the Streets and the Clown Army , worked as a cinematographer for Naomi Klein's The Take , co-edited the book We Are Everywhere: the irresistible rise of global anti-capitalism (Verso 2004). Together they co-founded the art activism and permaculture collective The Laboratory of Insurrectionary Imagination whose infamous interventions continue to erupt across Europe. They published the book/film Paths Through Utopias /La Decouverte, 2011), after which they set up the community la r.O.n.c.e (Resist, Organise, Nourish, Create, Exist). Lately thery coorganized the Climate Games the worlds largest disobedient action adventure game, for the Paris UN Climate Summit in December 2015.
Links
Related content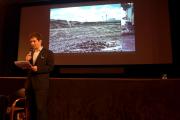 The international symposium Frontiers of Solitude, organized as part of the eponymous art project site will offer a comparison of the opinions, experiences, and points of view of artists, curators, and invited guests on the theme of transitions in the landscape in which we currrently live and of which we are a part. …