Lloyd Dunn
Multimedia artist and publisher Lloyd Dunn currently lives in Prague. His work began in 1983 with the project PhotoStatic Magazine, for which he served as editor, publisher and frequent contributor. PhotoStatic was intended to focus primarily on art created specifically for the xerox machine, but quickly found itself in the burgeoning zine community that was so active during the 1980s and 90s. The last issue (no. 49) appeared in 1989.
In 1987 he co-founded the multimedia group The Tape-beatles with John Heck and Ralph Johnson, and began the creation of a series of works that included sound and film collage, as well as live performance. Dunn has remained closely involved in a variety of arts-related projects up to the present time.
Dunn's curent work is embodied in the filecast project http://nula.cc, which he began in 2009. New filecasts appear at the project's "online presence" at frequent, though irregular intervals, and may be freely downloaded and shared.
Links
Related content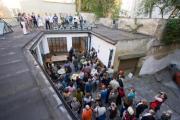 Gallery Školská 28 (DEAI/Setkání) is a multifunctional space for nonprofit cultural and artistic activities, founded in Prague in 1999. The programming concept of the space arises from the specific characteristics of the location where it is situated, and the space offers the community a variety of public activities connected to social life. …