Greg Pope: Lagoon
Lagoon audiovisual performance 20 min
A simple series of repeated actions build the sonic and visual imagery in a live performance utilizing an adapted slide projector, contact mics, guitar pick-up and modified shutter system. The performance brings together 'pure' images of the Jökulsárlón lagoon in Iceland with the raw intervention of live, inscribed, drawing with light. An idealized and untouched view of nature is gradually invaded by crude abrasions and real time intervention – what at first begins as a touristic take on an iconic landscape ends as a brutalist lesson in creation through destruction.
STONE HORIZON
Stone Horizon is the result of the Frontiers of Solitude expedition to Iceland. This will be a projector performance made in collaboration with Veronika Vlková (CZ) and Kateřina Koutná (CZ). The performance will take place at Stavanger ScreenCity Festival (October 2015) and PAF, the Ffestival of Film Animation (December 2015), in Olomouc, Czech Republic.
A structured 40-minute live cinema event will be created from 35mm photographic material gathered during our tour of Iceland. The event will be divided into three parts: Stone Horizon, Liquid Stone, and Hard Currency.
For this performance, we will be using three slide projectors using a speed-controlled shutter apparatus to create a proto-cinema, moving image performance. The projected image will be juxtaposed with action and sounds by means of acoustic and electronic instruments, played by Vlkova and Koutná. This piece will not directly address issues of ecology, land (mis)use and corrupt politics, etc., but these issues will be embedded in our approach and the presentation of Stone Horizon. The event will portray an abstracted notion of Iceland, although the country itself will never be mentioned, rather it will hopefully convey a general feeling about a spectacular land and its alterations through human intervention.
The piece is being devised and workshopped in Czech Republic over three days at the end of September, so it is still very much in development, and the final form is not yet known. Apart from Stone Horizon, I intend to use some of the material to create a series of connected images, hand printed photographs taken of the Kárahnjúkar hydroelectric dam. This is a project to be developed during the winter, after the December festival in Olomouc.
Greg Pope 22.9.15
Greg Pope is a British media artist and filmmaker who currently lives in Norway. After dabbling in punk rock bands and absurdist performance, Pope founded the Brighton-based super-8 film collective Situation Cinema in 1986, and afterwards, Loophole Cinema (London, 1989).
Using 16mm, super-8 and video, Loophole Cinema were self-styled shadow engineers performing numerous events around Europe. They produced The International Symposium of Shadows in London in 1996.
Working collaboratively and individually, Pope has created video installations, live art pieces and single screen film works since 1996. Recent works include live cinema performance pieces Light Trap and Cipher Screen, as well as the 35mm film productions Shadow Trap and Shot Film. He is active teaching, projecting, programming and making film.
Related content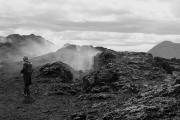 This expedition through Iceland will lead participants to various locations in South, East and North of Iceland where the untapped sources of renewable energy – water, steam, and wind – as well as the impacts of hydro- and geothermal power plants on the landscape and on local micro-economies, can be observed. …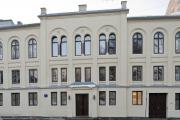 Atelier Nord focuses on new media art, with new forms and new content – especially technology-intensive art. These fields are characterized by instability in relation to production, distribution and how they are communicated. …