Field Work and Ecology
When
10 August 2015 to 20 August 2015
This expedition through Iceland will lead participants to various locations in the South, East and North of Iceland where the untapped sources of renewable energy – water, steam, and wind – as well as the impacts of hydro- and geothermal power plants on the landscape and on local micro-economies, can be observed.
We will visit the largest rockfill dam in Europe, Kárahnjúkar dam, as well as the aluminium factory for which it was built, and the affected river systems. The construction of Kárahnjúkar dam (2003-07), and the political process leading up to it, have been the subject of extreme controversy in Iceland. Under the current government, plans for more hydroelectric mega-dams are under way. They promote an intensified "harvesting" of the country's large number of free-running rivers and promise cheap "green" energy – with the aim of attracting investors, multinational corporations, and energy-hungry heavy industry to Iceland.
Participating artists will meet with experts from other disciplines and will be introduced to the ecological, political and socioeconomic aspects of the sites visited. The program intends to feed into a critical and informed debate about case-specific ecological and socioeconomic co-dependencies, and about the means and ends of renewable energy production and energy consumption.
Program
10. Aug: Arrival of artists in Reykjavík/Keflavík Airport
Travel by car to Akureyri
11. Aug: Travel along the north coast to Lake Myvatn, geothermal landscapes of Krafla, through the northeast to Dettifoss nad waterfalls Egilsstadir
12 Aug: Afternoon meeting at Skaftfell Center for Visual Art, talk by Markús Þór Andrésson
13 Aug: Visit to Skálanes Nature and Heritage Centre, Seyðisfjörður
14 Aug: Site visit to Reydarfjördur, tour to Alcoa Aluminium Smelter
15 Aug: Site visit to Kárahnjúkar hydroelectric dam in Eastern Highlands
16 Aug: Site visit to Lake Lagarfljót and Heradsflói Estuary
17 Aug: Return to Seyðisfjörður, evening meeting at Skaftfell Project Space, sharing of visual material, observations, thoughts, open to the public
18 Aug: Travel along south coast to Reykjavík, (Jökulsárlón Ice Lagoon, glacial estuaries, geothermal greenhouses Hveragerði
Accommodation at SÍM (Association of Icelandic Artists)
19 Aug: talk by Andri Snær Magnason, and evening screening of "Dreamland" movie, based on his book Dreamland, discussion on the planned projects and impressions of the participants
20 Aug Departure day from Reykjavik
Participants: Pavel Mrkus, Diana Winklerová, Greg Pope, Ivar Smedstad, Karlotta Blöndal, Finnur Arnar Arnason
Organisation: Julia Martin, Tinna Guðmundsdóttir
Documentation: Lisa Paland
Links
Related content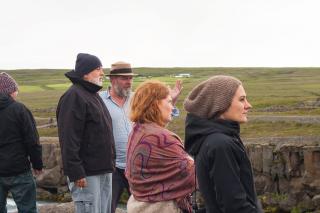 File downloads

Report Julia Martin