Skaftfell
Skaftfell Center for Visual Art, located in Seyðisfjörður, plays the essential role of presenting, discoursing and encouraging the development of contemporary art in eastern Iceland. It is a meeting point for artists and locals, and its activities are based on exhibitions and events, alongside an international residency program and outreach program.
Skaftfell is also the guardian of a minuscule house previously owned by the local naïve artist Ásgeir Emilsson.
In March 2013 Skaftfell received an Icelandic award, Eyrarrósin, for outstanding cultural leadership in a rural area.
Skaftfell - Myndlistarmiðstöð Austurlands
Center for Visual Art in East Iceland
Austurvegur 42
710 Seyðisfjörður, Iceland
(+354) 472 1632
skaftfell@skaftfell.is
Forstöðumaður/Director
Local Project Manager
Tinna Guðmundsdóttir
skaftfell@skaftfell.is
Local Project Curator
Julia Martin
julamir@hotmail.com
Documentarist
Lisa Paland
lisa.paland@gmx.de
skaftfell.is/en/skaftfell
Links
Related content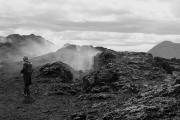 This expedition through Iceland will lead participants to various locations in South, East and North of Iceland where the untapped sources of renewable energy – water, steam, and wind – as well as the impacts of hydro- and geothermal power plants on the landscape and on local micro-economies, can be observed. …