Guy van Belle
These days we seem to be living in a world with a growing dissatisfaction about the way we are handling our persistence, even to the danger of questioning our survival. On one hand we see an economics-guided reconversion, reducing the involvement of the state in responsibility for the well-being of the citizens. This is combined with a political, cultural and artistic traditionalism, an economic protectionism, and a new xenophobic nationalism/regionalism, unifying all old ideological contradictions into a pragmatic support of the imaginary strongest. Solutions for making a new society are handed over to an abstract class with very littl involvement in the real issues (politicians+industries+banks), who are expected to make top-down decisions so as to make changes that do not hurt anyone. Example: the climate conferences. Conversely, more and more alternative methods are surfacing, identifying possible solutions at the level of every day life, worked out by small communities with specific needs providing ad-hoc solutions, which they are willing to maintain and take care of, and develop this further, increasingly in a bottom-up fashion. This insinuates one size does NOT fit all, and we have to change our lives fundamentally, even if it hurts, until we acquire better habits. This would suggest also a completely different situation for culture and art, abandoning the bigger picture set up by museums, collectors and galleries, and redefining the materials, content and methods of what could be a new creativity, based on effectuating new living conditions on this planet. Are we spiders and bees, or architects?
Guy van Belle (b. 1959 in Belgium, a.k.a. Gívan Belá), is a media artist and curator living in the Czech Republic. On occasion he would introduce himself as a media data author, on another as a wind time inventor and clockmaker, then at another as a slide and cigar box guitar musician in a skiffle/spasm band. After studying literature and linguistics, philosophy and sculpting, made the switch to computer music at the end of the 1980s. His most important virtual organisations (all collective) have been Stellingname (1984-1989), Young Farmers Claim Future (1990-2000), dBONANZAh! (1998-2002), mXHz.org (2002-?) and Society of Algorithm (2004-?).
Then was co-founder and active member of OKNO (2004-15), an artist-run organization in Brussels. Between 2005 and 2009 he lived in Bratislava, where he began to work under the name Gívan Belá. After a short visit to the small village of Hranice u Malče, and seeing there an abandoned cowshed, he extended his name to Belá-Kravař.
Links
Related content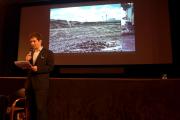 The international symposium Frontiers of Solitude, organized as part of the eponymous art project site will offer a comparison of the opinions, experiences, and points of view of artists, curators, and invited guests on the theme of transitions in the landscape in which we currrently live and of which we are a part. …