The Translocal Institute for Contemporary Art
Challenging anthropocentric conventions that seek to harness the river for economic, cultural and political purposes, the River School project (2013-2015) led my Maja and Reuben Fowkes, placed the complex ecological materiality of the Danube at the centre of artistic and scholarly attention. Drawing on the insights of artists, scientists, anthropologists, writers and environmental historians, brought together in the experiential setting of the River School, the collective inquiry journeyed to sites of urban and natural wilderness to explore issues of reciprocity, resilience, non-human agency and interspecies solidarity. From the confluence of contemporary art and environmental humanities, the artistic and theoretical reflections in the project flew through the critical habitats of rewilding mentalities, avian ethnographies, environmental histories and biosphere responsibility to reengage with the natural world. As a student of the authors, I will present the River School Project as well as the book River Ecologies, which serves not just as a fine documentation of project but as an important publication of the region's environmental literature. I will also present the activities of Maja and Reuben Fowkes in Budapest that mean a paramount contribution to cultivating a more nature-aware attitude in humanities, education and curatorial practices.
András Heszky graduated in 2015 at the Eötvös Loránd University and holds a master degree from Art theory-Aesthetics. He worked in Galerie Thomas Schulte, Berlin, in the OFF Biennále Budapest and currently he is a curatorial assistant in Trafó Galéria, Budapest. His texts has been published in Hungarian journals and fanzines, most recently an interview with photographer Wolfgang Tillmans. He is a board member of the Studio of Young Artists' Association and member of the nonprofit cultural organization Igor Metropol. His new interest in the relationships of art and nature is demonstrated in his publication on the Rare Earth exhibition in Vienna, his participation in Maja and Reuben Fowkes's recent seminars in the Translocal Institute and in his speech, given this year at the opening in Bálint Ház, organized on the occasion of Tu BiShvat, the 'New Year of Trees'.
Links
Related content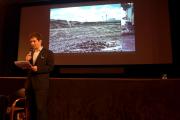 The international symposium Frontiers of Solitude, organized as part of the eponymous art project site will offer a comparison of the opinions, experiences, and points of view of artists, curators, and invited guests on the theme of transitions in the landscape in which we currrently live and of which we are a part. …