Vladimír Merta
Interglacial Epoque
Even though most of my life I have thought that I am living rather far to the north, it seems it is possible for me to live even further north. When you get closer to stones all around the world, they will tell you that they "know" about the south and the north. Trees in the north are shaped by the antlers of reindeer, deer and elk, the glaciers in the south have taught the whales how to sing. And: every path leads somewhere else, whether you are heading in any direction, it always turns out that there is some part of it that you already know. I understand these places, creatures and people all too well.
But I'll find out only after I stick out my ass. So I climbed the highest hill in Hammersfest to raise my rump a little bit to increase the hight of the hill. Later, when I looked around, I noticed there are several hills that were higher. Such is life.
Vladimír Merta, October 2015
Vladimír Merta (b. 1957) is an artist who lives and works in Prague. He belongs among the influential figures of the Czech Action art scene since in the 1980s.
Merta has created many performances in the landscape. At the beginning of the 1990s, he exhibited a series of spatially conceived paintings, objects and installations, in which he combined symbols with traditional and unconventional materials. Later he replaced live wood with a stone fossil in a composition featuring the ground plan of a temple (The Stone of the Right Moment, 1999).
Merta created an event with a tree "floating" against the current of the River Vltava for the Kampa Museum in Prague (Immigrant in Memory of the Flood of 2002). In 2009, a large exhibition, ErRors, at the Gallery of Critics, was devoted to Merta, and introduced his cycle of large-format pictures, which combined painterly and media visions on "defective" TV screens.
In 2010, Merta created a series of abstract pictures, Painting by Wind, which referred to his Drawings by Wind from the end of the 1980s. Painting by Wind was painted with contact-free acrylics using a brush moving freely across the canvas at the whim of the wind. He exhibited these pictures at his most recent exhibition in the Jindřichův Hradec Museum, drawing attention to the synthesis of his natural and painterly vision, both in art and in the sphere of cultural ecology.
Related content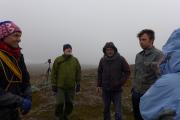 The Norwegian part of the project will encompass a 10-day expedition/workshop with artists from all three participating countries in the county of Finnmark in northern Norway from 20 to 30 September, 2015. The focus of the expedition will be on mining activity in the region and its effect on the local landscape. …