Miloš Šejn
Miloš Šejn (b. 1947, Jablonec nad Nisou, living in Jičín) makes use of a whole range of creative tools and approaches: drawing, painting, photography, film, installations, events, etc. An important element in Šejn's work is its intermediality. His works make use not only of monitors and visual machines, but also of text, words, body movement and spiritual activity itself (that is, the conscience of both the creator and the viewer). The key theme and setting for Šejn's works is the landscape (or nature, which he tends rather to perceive in its fragments). The artist also takes subjective space and the natural image as themes. Šejn perceives the landscape as a primary reality, the fountainhead, root and basis of creation.
This landscape is, to a certain degree, culturally constructed (there are paths through it, signs offering help). In the landscape, you then find a subject around which a specific place forms. Space is oriented or made hierarchical by this subject (up and down, back and forth). Such space is inhabitable, navigable. It is meant for existence or residence. The subject is not an abstract celebrity, but a corporal entity – it moves, looks around, perceives and reacts. It touches things from which a sort of indexical or natural image is created. This image has a material correlation to its model (physie eikon, naturselbstdruck, contact photographs, and the like).
Šejn's main activity is searching and collecting the pigments and products of nature. An open collection or archive is created from these materials and forms. His paintings are the result of actual events, which are not predestined, but which organise themselves, or develop from a self-regulating structure.
Related content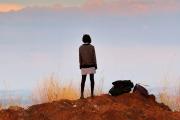 The focus of the expedition and workshops in the landscape around the Most Basin is on current changes in the heavily industrialized landscape, especially with regard to the loss of historical continuity, the transfers of geological layers and social structures, and current discussions about the abolition of territorial limits, as well as the potential for further degradation and exploitation of the landscape by extensive open cast mining. …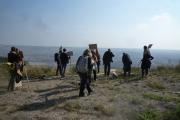 An improvised workshop with Miloš Šejn, inspired by the environment of the castle Jezeří, especially its former arboretum--a vast park located between the castle and the former village of Albrechtice. The workshop is intended as an inquiry into the hill of Jezeří and will comprise of improvised actions in several locations. …