Monika Fryčová: Joik
Joik
video, Finnmark 2015, 5:45 min
Joik is a personal composition considered as audiovisual poem, which captures the story of a hunter from Kautokeino and the Girl on the Bridge between Kirkenes and Murmansk.
The joik is a unique form of cultural expression for the Sami people. This type of song can be deeply personal or spiritual in nature, often dedicated to a human being, an animal, or a landscape as a personal signature.
Monika Fryčovái s an audiovisual artist, performer, and writer based in Seyðisfjörður, Iceland. She frequently deals with mixed media and untranslatable experiences, trying to perform under their own rhythms – the Here and the Now – the search for the primal source constantly found, only to be deserted again. Her work evidences the behaviour of certain nonlinear dynamic systems, the relationships between the seen and the indicated (unseen), the constantly in motion and the ephemeral, via symbols, aesthetics and the lens of history. Fryčová has been exploring intercultural issues and border culture, exotic minorities and experimental languages. She currently works on the permanent project Fantasy versus Discipline, The Artist as an Ethnographer, and organizes a vivid dialogue between Iceland, Portugal and Mauritius.
Fryčová holds a M.A. in visual arts from the Fine Arts Faculty at Technical University in Brno, and has studied at the Academy of Arts in Reykjavík, Iceland. Since 2003 she has been touring and exhibiting her work around the world.
Related content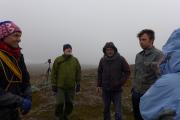 The Norwegian part of the project will encompass a 10-day expedition/workshop with artists from all three participating countries in the county of Finnmark in northern Norway from 20 to 30 September, 2015. The focus of the expedition will be on mining activity in the region and its effect on the local landscape. …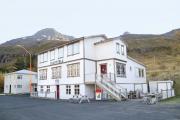 Skaftfell Center for Visual Art, located in Seyðisfjörður, plays the essential role of presenting, discoursing and encouraging the development of contemporary art in eastern Iceland. It is a meeting point for artists and locals, and its activities are based on exhibitions and events, alongside an international residency program and outreach program. …