Blog posts
Lucy F. Lippard: Undermining: A Wild Ride Through Land Use, Politics, and Art in the Changing West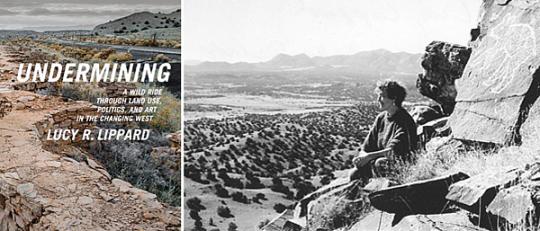 fragment, published 2014
"One's mind and the earth are in a constant state of erosion," wrote Smithson, a New Jersey native and one of the originators of the earthworks genre. It is impossible to talk pits in an art context without confronting his influential presence/absence; his romantic attraction to eerie, dreary, post- industrial landscapes; and his paeans to entropy. Although we often disagreed forty years ago, I now find Smithson's preoccupations with mirrors, pits, geology, the West, sprawl, and entropic suburbs reflected in my own life and work. And I am hardly alone. Smithson is the only one of his generation of land artists in the late 1960s whose ideas, disseminated through his compelling writings, seem particularly relevant and provocative today.
Smithson's first proposed earthwork, in 1966, was Tar Pool and Gravel Pit and just before his death he was trying to persuade Peabody Coal to fund a reclamation piece. In his 1967 Tour of the Monuments of Passaic NJ, he wrote about a gigantic parking lot that covered old railroad tracks, dividing the city like two sides of a mirror, and noted how full of "holes" prosaic Passaic seemed in contrast to "solid" New York. He liked to quote his friend, sculptor Carl Andre: "A thing is a hole in a thing it is not." Smithson was simultaneously involved in the place and self-consciously removed from it. Views, or vistas, interested him less than what was underfoot. When he and Nancy Holt visited me in coastal Maine in 1972, he peremptorily dismissed the sparkling ocean view and turned his attention to the geological history of the rocks on which we stood. Like Icarus, Smithson's grand ideas ended tragically in 1973 when his small plane plunged to the earth as he was overseeing a Texas earthwork in progress.
Smithson's account of finding the Salt Lake site for Spiral Jetty (the best known earthwork in the world, though it was underwater for decades) sounds like the reporter's description of the Zuni Salt Lake: "a transplanted segment of crumbling New Jersey industrial shoreline," but Smithson embraced rather than deplored industrial detritus. At first, he couldn't get to the "wine red" Salt Lake because of Keep Out signs and angry ranchers. (Welcome to the West.) The next day, he recalled, "We followed roads that glided away into dead ends. Sandy slopes turned into viscous masses of perception … an expanse of salt flats bordered the lake, and caught in its sediments were countless bits of wreckage. … The mere sight of the trapped fragments of junk and waste transported one into a world of modern prehistory. The products of a Devonian industry, the remains of a Silurian technology, all the machines of the Upper Carboniferous Period were lost in those expansive deposits of sand and mud." It was an epiphany, with orgasmic overtones. "From that gyrating space," he continued, "emerged the possibility of the Spiral Jetty. … My dialectics of site and nonsite whirled into an indeterminate state, where solid and liquid lost themselves in each other."
When land art was new, bringing provincial New Yorkers out of their lofts and into the hills, the expansion of consciousness it offered was both experiential and esthetic. Ideally part land and part art, it is best located deep in place, where one comes upon it unexpectedly, like ruins and rock art—poignant reminders of human agency and time's victories. The viewer, like the artist, is so awed, so sensitized, so aware of seasons and materials, space and wildlife, that the work truly co-exists with the place it creates. Religious undertones and the nineteenth-century "sublime" are part of the attraction. Artists were thinking on a grand (sometimes grandiose) scale. Forty years later, climate change, shrinking resources, threats of drought, and federal administrations bent on destroying the environment for corporate gain have changed the rules of the game.
In the mid-1990s, I called a talk I gave in Marfa "Land Art in the Rear View Mirror," because by then I had gone on down the road. Cultural geography and the politics of land use have replaced land art in my windshield over the years I've been living in the West. My views haven't changed because I have less respect for the older work, but because the better I know the New West the more my attention is claimed by peripheral vision—by the side-of-the-road shows, by life on the land. I argue now for the nearby, a microview of land and art, grassroots connections rather than macro pronouncements. In fact, I've come to the reluctant conclusion that much land art is a pseudo rural art made from a metropolitan headquarters, a kind of colonization in itself. It offers an antidote to an urban landscape crammed with art and visual competition. In a rural setting,however, land art would more often entail subtractions (of "ranchettes" dotting the open landscape) than additions. The land art we know best in rural New Mexico is abandoned adobes, trophy homes standing out like sore thumbs in this beige landscape, and aging vehicles nobody can afford to haul away.
When I was a city dweller, I welcomed visual extravagance, graffiti, oddities, or subtle alterations in my already hectic daily surroundings. Public art belongs in towns, places where people interact with the built environment on a frequent, familiar, pedestrian basis where art can literally inform or enhance a neighborhood or public domain. The task of land art, on the other hand, is to focus landscapes too vast for the unaccustomed eye to take in, or to give us views into the cosmos, connecting the places where we stand with the places we will never stand.
Significant objects have their place in the art world. It remains to be seen if they still have a place in land art. There is a point where artists too must take some responsibility for the things and places they love, a point at which the colonization of magnificent scenery gives way to a more painfully focused vision of a fragile landscape and its bewildered inhabitants. The land is not separate from the often harsh realities of lives lived upon and around it. A land art in the New West could acknowledge the rough edges as well as the romance. It could be integrated into a cultural landscape, which is a forever changing production featuring vegetation, wildlife, water, and human agency. A vernacular land art might include commemoration that looks to the smaller scale, land-based notions of nature, remembering small farms and common lands, the disappearing histories of places and ecosystems.
Copyright © 2014 by Lucy Lippard. This longer excerpt originally appeared in Undermining: A Wild Ride Through Land Use, Politics, and Art in the Changing West, published by The New Press Reprinted here with(out) permission.
Gallery