Blog posts
Rise and Fall of the Herring Towns:Impacts of Climate and Human Teleconnections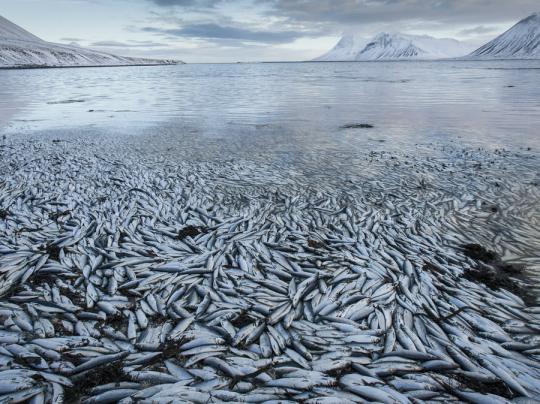 Lawrence Hamilton, Oddmund Otterstad and Helga Ögmundardóttir
Sources indicate that in olden times Icelanders did not fish for herring, or just on a very small scale. Herring fisheries off Iceland began around 1880 when Norwegian fishermen established themselves in the East Fjords and later also in North Iceland, especially in the Eyjafjörður region. The Norwegians´ fishing technique was based on the use of seine nets that were laid out in fjords, a short distance from the shore. In Iceland interest in herring fishing was greatest in Eyjafjörður where the management of the Gránufélag took the lead. In 1880 and 1881 the company's managers undertook herring fishing and salting in Siglufjörður. This was probably the first wholly Icelandic company to catch and salt herring and to export Icelandic herring. During the first fifteen years after the Second World War herring fisheries were slack, a new boom started in the early 1960s. This lasted until 1968 when the herring stocks collapsed and until 1990´s there was almost no herring fishery off Iceland and Norway.
Time plots of catches by fisheries for small pelagic species often show a characteristic pattern. The fishery builds up to a sharp peak of high catches, then drops steeply as the resource becomes scarce. This pattern might occur only once in a fi shery's history, or several times with a separation of decades. It is not uncommon for a diff erent small pelagic species to become more abundant, providing a new fi sheries target, after the formerly most prized species vacates its niche. Similar spike-and-collapse patterns can take place in the substitute fi sheries as well. Population volatility appears widespread among small pelagic species. As relatively short-lived forage fish, they experience intermittent strong year classes. Spawning and migration cycles are sensitive to annual-scale variations in ocean environment or climate. Fishing pressure can accentuate this volatility. The characteristic spikes of pelagic fishery catches represent not simply peaks in abundance, as it has been tempting to assume.
Rather, they are peaks in fisheries success, an imperfect correlate of abundance. Unsustainable peaks can result from intensified fishing effort, market demand or technological innovations, even while abundance itself declines. Intensification temporarily masks decline, but catches eventually come down too – often with a crash. Some dramatic failures of twentieth century pelagic fisheries occurred when rising fisheries pressure coincided with falling environmental conditions, a double blow against a resource. Order-of-magnitude fluctuations in small pelagic stocks have consequences on land, where families, enterprises and communities depend on the resource. The human dimensions of pelagic-fishery troubles have been particularly prominent in the case of Norwegian spring-spawning herring, a once-vast stock that during the first half of the 20th century supported fishing communities around the northeast Atlantic, then almost vanished in a late 1960s collapse.
With the collapse, herring towns lost their main resource, and faced an urgent need to find other livelihoods. The societal aftermath, as well as the build-up, shows some common elements across different places. Here, we illustrate with the stories of some individual communities – Siglufjördur, a North Iceland village that boomed briefly as the 'Herring Capital of the World'; Seydisfjördur and Neskaupstadur in the Eastfjords of Iceland, which succeeded Siglufjördur as the centre of Iceland's herring boom during its final stage in the 1960s; and Råkvåg, a quieter Norwegian village where centuries of herring fishing ended with the collapse.
The fisherfolk of these and many other herring towns pursued essentially the same large migratory stock. Adverse environmental shifts around Iceland, together with over fishing (putting pressure on different herring life stages and during different seasons) on both Norwegian and Icelandic grounds, reduced this common stock by more than 95 per cent. Three decades later, the stock had regained only a fraction of its former size and range (for an overview, see Vilhjálmsson, 1997). The shared fates of Icelandic and Norwegian herring fisheries reflect their shared resource. Signs of synchrony among more distant pelagic fisheries, for example Atlantic and Pacific herring, have also been observed, but their causes are less obvious. One class of explanations looks for teleconnections through global or hemispheric climate, which might impact Atlantic and Pacific ecosystems alike. We suggest an alternative or supplementary hypothesis. The correlations between Atlantic and Pacific fisheries might at least partly be due to humans, and in this respect not so different from what happened to the Atlantic herring towns.
(.......)
HERRING TOWNS OF EAST ICELAND
Icelandic herring catches show two distinct high eras. The fi rst was during the 1930s, 1940s and early 1950s. This comparatively low-technology labour-intensive era brought thousands of jobs to Siglufjördur and other herring towns. Then, as herring biomass shrank, and the remaining fi sh were found farther north and east, the fishery entered a new era. Low-tech inshore vessels could no longer reach the fish.
The great terminal 1960s spike of Iceland's second herring era reflected catches by a more industrialized, long-distance fleet based in East Iceland towns such as Seydisfjördur (65.3°N, 14.0°W) and Neskaupstadur (65.2°N, 13.7°W). New post-war technologies, the power block, nylon nets and sonar, allowed massive catches and masked the resource decline. Larger ships ranged far to the east and north to find the fish.
Contemporary narratives about the last decades of Iceland's herring adventure describe the dramatic shift of fishing activity from North Iceland to the Eastfjords. Social activity in the eyes of the nation, followed this shift as the herring retreated farther and farther east. When the fishery ended, almost in an instant (1968), the herring's earlier retreat looked in retrospect like a warning of what was just around the corner. The excellent harbour of Seydisfjördur had become one of Iceland's first herring ports when Norwegians started fishing there in the late 19th century. By 1901 the population passed 1000, compared with fewer than 150 in Siglufjördur. However, the herring catches there declined, and Seydisfjördur grew no further, whereas Siglufjördur began to boom after 1910. In the mid-1930s two herring plants were built in Seydisfjördur, and new vessels were purchased. The herring plants often had an insufficient supply of fish, so to raise catches, a trawler was allotted to the town by the government in 1946 (one of several distributed to Icelandic municipalities as a way to provide jobs). Herring salting resumed in 1950, after a lapse of 50 years. One plant was enlarged in 1956, then rebuilt in 1962, as Seydisfjördur became more important (and Siglufjördur less so) in the east-shifting herring fishery. Seydisfjördur processed massive volumes of herring during the fishery's terminal spike in the period 1962–1967, before the resource disappeared.
During the peak year of 1966, Seydisfjördur processed some 150 000 tones of herring and salted 108 000 barrels. Hundreds of students and fishers came to work in this short-lived boom; similar opportunities no longer existed in Siglufjördur. Norwegian ships also came to fish, but they processed their herring onboard. Although the eastern boom involved far more fish per year than the northern boom ever had, it created fewer jobs owing to its more modern, industrialized methods. Following the collapse, Seydisfjördur's herring plants turned to alternative species. One became a cod freezing plant in 1969; another had little to do for five years until a fishery emerged for capelin. Unlike Siglujördur, Seydisfjördur also possessed significant demersal fish resources. In 1972, another trawler was purchased to fish for cod. Cod landings overall increased as herring catches dipped, and together with capelin this allowed Seydisfjördur's population to continue growing after the herring crash, until cod too declined and outmigration became marked.
There was a similar pattern in the nearby herring town of Neskaupstadur. Even during the herring era, many small boats in Neskaupstadur fished for cod and other demersal species, providing jobs in the absence of herring. Working in cod processingwas socially stigmatized compared with working in herring, the bigger, more exciting fishery. The herring fi shery demanded harder physical work, intense for short periods, but requiring limited skills. It appealed to younger workers, more so than the comparatively stable and technical cod fi shery. Having the alternative of cod, however, left Neskaupstaur a way out of the herring crisis. In 1970 Neskaupstadur was among the first towns in Iceland to buy a stern trawler to fish cod, allowing it to bridge the gap between the herring era and what came afterwards – the trawler era.
In Seydisfjördur and Neskaupstadur, both the rise and the fall of the herring era came later and much faster than in Siglufjördur. Because East Iceland fisheries were more diverse and less labour-intensive, immediate socioeconomic impacts of the herring collapse were less harsh. However, when cod catches fell too, a few decades later, the Eastfjords towns were left in similar dire straits. The herring collapse was a national shock, with impacts not confi ned to the herring towns. Unemployment increased around Iceland; net outmigration jumped during the years 1969 and 1970 to its highest levels since 1887 (Statistics Iceland, 1997). Herring and cod had been the economy's main pillars; the loss of one highlighted the nation's vulnerability to environmental forces, and the need for diversification beyond fish.
Section from the article by: L.C. Hamilton, O. Otterstad and H. Ögmundardóttir (2005). Pp. 100-125 in R. Hannesson, M. Barange and S.F. Herrick Jr. (eds.) Climate Change and the Economics of the World's Fisheries. Northampton MA: Edward Elgar (about Seydisfjördur).
Gallery