Blog posts
Bratrstvo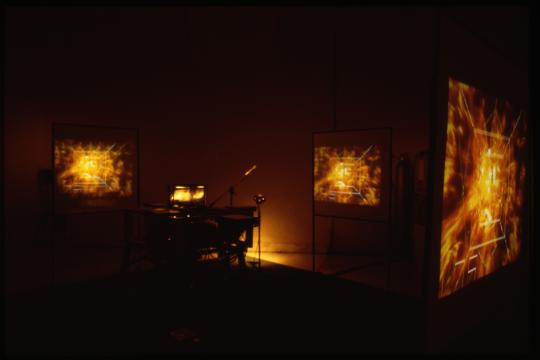 Série The Brotherhood, které se její autor Woody Vasulka věnoval v 90. letech minulého století, byla jeho poslední velkou týmovou realizací. Práce Friendly Fire tvoří jeden segment z celkově šesti vzájemně propojených interaktivních a kybernetických systémů, tématizujících Vasulkův skepticky ambivalentní komentář k dvacátému století. Své koncepty, inspiraci a myšlenkové podloží Bratrstva Vasulka komentoval opakovaně v několika rozhovorech a autorských textech. Nicméně i napříč jeho zdůraznovaným intencím a motivacím zůstává i po dvaceti letech toto mnohavrstevnaté dílo jak ve své fyzické podobě, tak jako koncept výzvou k re-interpretacím a hledání nových souvislostí.
Tématické okruhy a přístupy, konstitující "The Brotherhood-Bratrstvo" nalezneme v mnoha předchozích Vasulkových projektech a řada z nich je ve zjevné i latentní formě v tomto syntetickém díle obsažena. Jako přímý předobraz série je považován soubor kyber-mechanické scénografie, připravený pro příležitost performance "Events from the Elsewhere" (1985 - 1990). Také zde její autoři recyklovali a re-kontextualizovali "nalezený" technický objekt, pocházející z vojensko-vědecko-výzkumného prostředí. Gyroskop dekonstruovali a opatřili alternativní funkčností, souborem senzorů, softwarem, rozhraním aby jej vložili do posunutého estetického a kulturního kontextu a významu. Vasulka jako často předtím pracoval v týmu: s inženýrem-konstruktérem Donem Buchlou, hudebníkem Davidem Dunnem, performerem Timem Thompsonem a performerkou Joan La Barbara. Systém, prostředí, soustrojí (hardware a software) bylo vystaveno v různých konfiguracích pod názvem "The Theater of Hybrid Automata" (1990).
Slovo theater - theatrum (latinsky theatron "divadlo; podívaná," "místo k pozorování,řecky "theasthai " spatřit") bylo zde zvoleno patrně s vědomím genealogie latinského významu, používaného v pozdním manýrismu a baroku. To byla turbulentní a pozdější modernitu formující epocha evropských dějin, o kterou se Vasulka (včetně otázek metafyziky, hermetismu a alchymie) tehdy zajímá. Teatrum mundi - "divadlo světa" je v tomto smyslu vnímán jako "vnitřní model", jako umělý akt syntetizujícího rozumu, komplementarity rozumu i mystiky, fyziky i metafyziky, směřujícící k symbolickému zobrazení skutečnosti, k obrazu topografického i ideografického uspořádání univerza, včetně oněch viditelných i lidskými smysly nepostihnutelných vazeb a zákonů. Prostorové uspořádání instalace "Divadla hybridních automatů" s její symetrickou orientací projekčních ploch, uspořádaných kolem centrálního projekčního systému jakoby odkazovalo na ikonografii zpodobňování barokního světa, viděného zde ovšem prizmatem kybernetických systémů zpětných vazeb, militarismu a informační teorie.
Podobný přístup k zachycení obecného prostřednictvím jednotlivého lze najít i v soustrojích The Brotherhood a tedy i u práce Friendly Fire.
Tak jako tomu bylo u Divadla hybridních automatů, Bratrstvo – (dávám přednost tomuto českému termínu) vznikalo postupně jako mezioborový projekt. Na jeho vzniku se podílela skupina odborníků, programátorů, mechaniků, umělců i producentů. Každá součást celkového prostředí může působit samostatně, jako autonomní jednotka. Ale teprve společně - v hybridním, semirobotickém, nebo "cyborgovém" souručenství dostávají jednotlivé "postavy" další významy, zpětné vazby a rozměry dialogu. Jediný z aktérů Bratrstva ženského rodu – Maiden/Dívka, je naprogramován tak, aby pasivně převáděl signál z MIDI houslí do makabriozního pohybu, jehož choreografii definují kánony a způsob uvažování Bratrstva.
Friendly Fire je podobně jako například collateral damage mezinárodně srozumitelný termín. V žargonu vojenských institucí je tak označována chyba, nebo nevítaná událost, kdy během bojové operace je zasažen a zničen vlastní vojenský objekt. Ve Válce v Perském zálivu (1990-1991), kdy Vasulka na sérii začínal pracovat - zemřelo několik desítek amerických a britských vojáků poté, co posádky stíhaček a vrtulníků, sledujících bitevní terén přes interface palubních přístrojů chybně identifikovaly spojenecké vozidlo jako nepřátelský objekt. Odhadované ztráty irácké armády (až 100 000 lidí) na útěku z Kuvajtu byly díky pečlivě mediální kontrole spojenců dlouho utajovány. Na straně aliance zahynulo kolem 300 vojáků a 24 procent z nich pak v důsledku "přátelské palby". Jean Baudrillard válku v Perském zálivu pohotově v článku pro Guardian označil jako něco, co se jako válka jen tvářilo. Ve skutečnosti to bylo mediální představení, prezentace hegemonie supervelmocí, simulace skutečného souboje, tok virtuálních technických obrazů, připomínajících monitory trenažérů, svádivou vizualitu enginů počítačových her a strategických algoritmů Hollywoodu. Válečná technologie realitu boje proměnila v simulakrum.
Woody Vasulka použil jako obrazový námět instalace Table 3, Friendy Fire právě apropriované video, zaznamenávající střelbu do vzdálených postav, prchajících od tanku, zasaženého projektilem z vrtulníku. Percepční kód a modus nočního vidění videokamery byl dekodovaný člověkem s prstem na spoušti. Chybně. Lidský prvek se stal kauzalitou poruchy, kolapsem v jinak hladce nezpochybnitelné funkčnosti mechanického aparátu, konstruovaného k eliminaci pohybujícího se vzdáleného objektu, chladného aktu horké násilné smrti člověka. Instalace je opatřena rozhraním, pomocí kterého ji lze proměnit v aluzi na strategickou počítačovou hru
Jaké poselství série Bratrstvo (nebo Bratrství) a Friendly Fire ukrývá? (Sebe)kritiku mužského principu ovládání světa prostřednictvím technologií, nástrojů, zbraní? Vasulka k sofistikovaným přístrojům a nástrojům, i když je třeba nalézal ve sběrných surovinách, chová s respektem inženýra. Vnímá instrument jako vzácný konvolut, do něhož je vložena suma inteligence jeho konstruktérů. Druhá možnost je vidět Bratrstvo jako modernisticko utopický projekt kybernetické komunity, schopné lidský rozum a tvořivost, směřující k destrukci a sebedestrukci korigovat pomocí umělé inteligence nesentimentálních bytostí posthumánní doby. Série Bratrstvo je podobně jako třeba Vasulkovo video Art of Memory nesena dialektikou mezi prométeovskou i démonickou stránkou techniky, mezi optimistickým étosem modernismu i jeho postmoderní kritikou.
Miloš Vojtěchovský
Related
Epiphany – Frontiers of Solitude
Dům umění Ústí nad Labem September – October 2016 http://duul.ujep.cz/ An exhibition and symposium created within the framework of the international transdisciplinary project Frontiers of Solitude. .. there are many, many other worlds, yes, but they are all hidden within this one. And so to neglect this humble, imperfect, and infinitely mysterious world is to recklessly endanger all the others. Earth in Eclipse-an Essay on the Philosophy of Science and Ethics David Abram Aside from its biblical, gnostic, or metaphysical meaning, the term epiphany also raises issues concerning the relationship between humans and nature and the boundaries of thought, belief and epistemology. Where does the sacred lead and where does the profane begin? Where does the revealed come from, and what does it consist of? The idea of revelation and its embodiment affects our relationship with the sacred, as well as our neighbors, and also our sense of belonging to a physical world, which we are increasingly remaking in our image. What kind of image is it? We will need to reevaluate our technological approach to the environment, which we understand reflexively as an inexhaustible deposit, a source of energy, as a free reservoir for exclusively human use. A criticism of "disenchantment," of the alienation of humankind toward the biological world, is found in different areas of contemporary science, humanities, religion, philosophy, economics and art. It is becoming evident that this is a dangerous and complex cluster of values, interests and assumptions, providing the elites with access to unimaginable wealth, and sacrificing the rest of the biosphere, edging us nearer to the environmental extreme of physical survival. The project Frontiers of Solitude develops this discourse. The exhibition and the accompanying program serve as an attempt to outline the relationships among the cultural, economic, and ethical issues of the environmental challenges we currently face. In 2015, Frontiers of Solitude launched three separate expeditions to ecologically threatened areas of Europe. In addition, the project has offered a series of exhibitions, meetings, workshops and symposia. The expedition "Into the Abyss of Lignite Clouds" took place in the Most lignite coal basin in the Czech Republic. The participants researched the morphology and the history of this region -- a landscape that has been heavily transformed to a depth of several hundred meters by industrial exploitation. The toxic Black Triangle, which is defined roughly as a carbon-rich area between Sokolov, Litvínov, Bad Brambach and Katowice, has softened its boundaries somewhat since 1989, and, on the whole, has grown. The exhibition presents several works that were produced by artists participating in the project - Elvar Már Kjartansson, Pavel Mrkus, Robert Vlasak, Martin Zet, Vladimír Turner, Julia Martin). In this extended form, the project focus shifts to both local and global contexts through a selection of works by several Czech and foreign artists, whose approach resonates with issues that the project raises: Steina Vasulka [IS], Layla Curtis [UK],, Michal Kindernay and Paul Chaney [UK]). These works are enriched by a few contextual interventions and artifacts, such as a selection of apocalyptic documentary photography from the series of Ore Mountains landscapes by Josef Koudelka (Black Triangle-1990-1994), as well as a stage-design-like intervention by JSD - Peerless Brotherhood of the Holy Nurture from The Universal Psychiatric Church 316a (UPSYCH) in Kuřivody. The exhibition outlines the cross-connections among various social, psychological, mythical, economic and cultural landscapes. The works reflect the process of a larger-scale globalization and touch not just upon the perspectives of geology, meteorology, energy and ethics, but also try to penetrate into the lower depths of the demonology of the landscape of the 21st century. An accompanying program and an interdisciplinary symposium will be dedicated to the problems of Art and the Anthropocene, and is scheduled for October 19, 2016. The schedule and program of the symposium The Landscape in Focus will be announced as soon as possible. preliminary program see Krajina v pozoru/The Landscape in Focus …