Blog posts
Harrisons: A MANIFESTO FOR THE 21ST CENTURY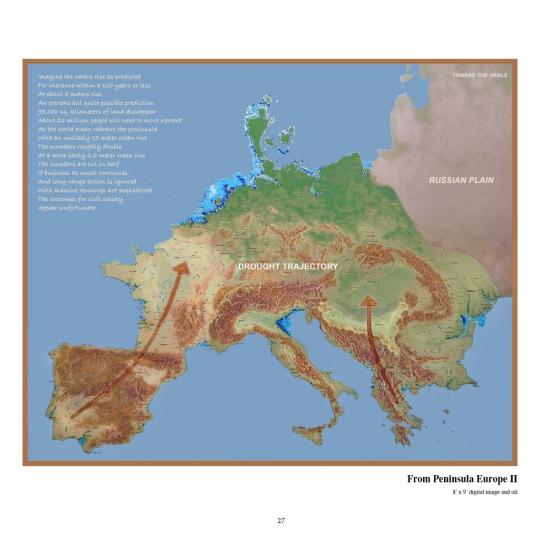 We, of the Harrison Studio, believe
As do others, although differently
That a series of events have come into being
Beginning in the time of Gilgamesh and before
Beginning with agriculture and the first genetic manipulation
Beginning with culture of animals and ongoing genetic manipulation
Beginning with globalization six thousand years ago with the Salt Route
A little later, the Silk Route
And later and later…
Especially with science informed by Descartes' clock
And with modernity recreating the cultural landscape
And deconstructing nature thereby
From the Industrial Revolution to the present
Until all at once a new force has become apparent
We reframe a legal meaning ecologically
And name it the Force Majeure
We, of the Harrison Studio assert
As do others somewhat differently
That the Force Majeure, framed ecologically
Enacts in physical terms outcomes on the ground
Everything we have created in the global landscape
Bringing together the conditions that have accelerated global warming
Acting in concert
With the massive industrial processes of extraction, production and consumption
That have subtracted forests and depleted top soil
Profoundly reduced ocean productivity
While creating a vast chemical outpouring into the atmosphere
Onto the lands and within the waters
That altogether comprise this Force Majeure
We, of the Harrison studio, are grateful
For the opportunity to join in this perilous conversation
Where the discourse in general
Is about time, money, power, justice, sex, politics
Personal well-being and survival
In many combinations and re-combinations
Attending somewhat to social injustice
And somewhat less to ecosystems' injustice

This discourse points to human consciousness
Every day continuously attending to itself
With little attention paid to that which is not itself
Leading to intrinsic value switched for extrinsic value
With human creativity generating technologies
That appear not to like that which are not themselves
Sometimes becoming the reverse of their original intention
There is modest conversation drifting toward green
As industry and people think about doing well by doing good
Good being green roofs green cars
Green manufacturing processes
Green transformation of material
Green production of all kinds
expanding green markets
Green in everyday life
in the frame of sustainability
We, of the Harrison Studio, assert
As do others, as yet, not many
That in the face of multiple tipping points
Passed and near passed
From CO2/methane to nitrates/nitrites
And more and more
All of these efforts and all of this work
Altruistic from the best of people
Greedy and mean spirited from the worst of people
Is better to be doing than not to be doing
But on balance, insufficient
Endlessly insufficient
The Force Majeure, so obvious, even in the now
Is generating ocean rise
Forcing the ocean's food chains to simplify
Compelling glaciers and snow pack to melt
Creating flood and drought at continental scale
Which is the outcome for rivers
As they flow down through Asia from the Tibetan Plateau
And true for many parts of the Americas

The outcomes for the Peninsula of Europe are unfortunate
The numbers have been crunched
Revealing the trajectory of drought predicted to proceed
From Portugal to the southern parts of Germany and beyond
Reducing 2.4 million square kilometers of farmland
That now feeds over 450 million Europeans by almost a third within 50 years
The population will grow the food supply will shrink
The waters will rise
People will need to move upward
The rich will continue to do well
Not true for the middle class
And devastating for the poor
We, of the Harrison Studio conclude
That a counter force is available
But unless put in place well within the next fifty years
Civil society in many places will experience perturbation then collapse
Keeping company with the ecosystems
experiencing perturbation and simplification
A counterforce that is comprised of understandings
Waiting to be internalized and then enacted

They are:
First: understanding: Nature's economic system stores the energy that it does not immediately need mostly in carbon formations
Second: understanding: Nature does not charge a profit as do culture's economic systems
Third: understanding: All natural systems are dissipative structures with individuals that form them living,
reproducing then dying with indeterminacy as a norm
Fourth: understanding: All natural systems have learned to nest within each other, and, within a context of symbiosis contribute to collective systems survival, sometimes with abundance
Fifth: understanding: Human constructed artifacts particularly legal, political, economic as well as production and consumption systems seek constancy but are often in violation of the laws of conservation of energy pointing toward systems entropy
When the first four understandings are internalized and integrated into all parts of the fifth understating. A transformation can happen that will open pathways for human created systems to yield autonomy and accept limitations. An acceptance that will permit the formation of processes of nesting within nesting that will enable nature's ways of invention and human ways of invention presently so oppositional to co-join.
The counterforce we envision will permit:
A culturally generated acceleration of adaptation behaviors at great scale
Operating at a parallel rate to the climate forcing generated by human activity setting the stage for adapting strategies that will assist the migration of our own species And those who are not ourselves Who are co-equally endangered by the threat of mass extinction
Into zones of greater safety Tuning to and over time in concert with the Force Majeure
Among the leading pioneers of the eco-art movement, the collaborative team of Newton (1932) and Helen Mayer Harrison (1929) have worked for almost forty years with biologists, ecologists, architects, urban planners and other artists to initiate collaborative dialogues to uncover ideas and solutions which support biodiversity and community development.Helen Mayer Harrison and Newton Harrison are retired professors from UC San Diego's Visual Arts Department. They relocated from San Diego to Santa Cruz, California in 2004.
The Harrison's concept of art embraces a breathtaking range of disciplines. They are historians, diplomats, ecologists, investigators, emissaries and art activists. Their work involves proposing solutions and involves not only public discussion, but extensive mapping and documentation of these proposals in an art context.
Past projects have focused on watershed restoration, urban renewal, agriculture and forestry issues among others. The Harrisons' visionary projects have often led to changes in governmental policy and have expanded dialogue around previously unexplored issues leading to practical implementations throughout the United States and Europe.
"Our work begins when we perceive an anomaly in the environment that is the result of opposing beliefs or contradictory metaphors. Moments when reality no longer appears seamless and the cost of belief has become outrageous offer the opportunity to create new spaces – first in the mind and thereafter in everyday life."
Center for the Study of the Force Majeure U. C. Santa Cruz
The concept behind the Center for the Study of the Force Majeure was established on the University California Santa Cruz campus in 2009. It began with the legal civil term Force Majeure, which in their words means to:
Designate the co-evolving set of circumstances that work against the well-being of both the human cultures and the eco-systems as we know them, thereby imperiling the survival of both. [It] references the nature of the global environmental stresses imposed by humanity's overuse of planetary resources and the resultant contribution to climate change. Force Majeure, when framed ecologically, delineates human accelerated global warming that is acting in transaction with the vast industrial processes of extraction and CO2 production. These processes have resulted in destroyed forests, depleted topsoil, a severe lessening of ocean productivity and a vast chemical outpouring into the atmosphere in the earth and the water.
A core aspect of the Center is the engagement in studies of "adaptation at scale", a perspective they maintain by examining the likely outcomes from glacial melt on the Sierra Nevada, the Tibetan Plateau and the trans-European mountain ranges. They write,
A number of tipping points have already been passed. The most obvious, but by no means the only, example is the rising atmospheric CO2 level—now above 390 ppm. Although 450 ppm atmospheric CO2 looks likely to be reached well before the end of this century. We will be lucky if atmospheric CO2 levels stop rising at 600ppm.
Ocean rise, drought, erratic weather, and temperature increase are happening already—particularly in the high grounds. Newton and Helen hypothesize overall outcomes—that is, not only through measuring, but also envisioning what this means for large and small populations and their survival.
They advise,
Complexity theory suggests that multidimensional problems do not yield or find resolution with simple cause—and effect—solutions, such as putting iron filings in the ocean, algae upwelling systems, burying CO2 underground, substituting atomic energy for coal, and the like. We have come to believe that problems of the kind that humanity now faces, such as the reformatting of the global weather systems from the predictable Holocene to the unpredictable Anthropocene, must be met by a whole—systems approach. We believe that human well‐being in our shared and uncertain future will require adaptation on a vast scale, both ecologically and culturally. The formation of the Center manifests this belief in physical terms. The following question goes beyond the issues of art and science, regional planning and eco-structural design and can only be accepted and supported at policy levels: Are there ecologically available responses that will, in good part, replace the value provided by the disappearing glaciers to the river systems and to the human cultures they support (Harrison Studio, 2009)?
Toward answering this question in several geographies, the Center includes:
1. The location of sites in mountain ranges where receding glacial melt will, in the near future, negatively affect the constant flow of waters into rivers. The research will address the selection and the balancing of plant species from the region that can adapt to the new climate conditions biased toward generating topsoil and enhancing the Sponge phenomenon in the earths available.
2. Paleo-botanical research that will locate species that lived in the affected region prior to glaciations at a time when the climates were equivalent to those projected. This research has two intentions: To locate species in the region that might not have been considered as part of a viable plant palette. To suggest close relatives that might now exist in other locations that, after appropriate testing, would niche into the new environmental conditions beneficially; that is to say, without behaving as exotics.
3. An examination of newly revealed glacial earths and to inquire about what a first succession might be like. One important question is, "Is this enhancement possible?"
4. A more careful exploration of the hydrology reflected in carbon sponge dynamics, with the intention of adding value to the system.
5. Looking at the potential for carbon sequestration over great scale, e.g., how much carbon would be sequestered were the Tibetan Plateau to be significantly regenerated by using the evolving principles of the Harrison's Studio?
Last August, I corresponded with Newton about strategies he and Helen have considered regarding reducing levels of entropy. He wrote, "How to drop entropy requires extraordinary changes in how we think and deal with ecology and the great diversity of human behaviors tuned to the sciences that Fritjof Capra talks about. Capra's four categories of events—energy, economics, climate change, inequality—collectively add up to what he calls "systems thinking" closely parallels how we think. The argument that puts together entropy and empathy requires extraordinary changes in how we as humans function in society."140 The Center was formed to begin implementing what resources and strategies humans will need in order to adapt—primarily their food supply.
The Center for the Force Majeure Studies has four primary goals:
1) Botanical explorations and experimentations that will assist the migration of species upward to compensate for species loss, flood and drought due to accelerated global warming in the highgrounds particularly mountain areas. The Center will be examining the possibility of generating eco-systemic design directed toward adaptation at great scale.
2) The center is presently working with personnel at the University of California Berkeley research station located in the 8000 acre Sagehen Watershed.
3) Generating a Paleobotanical Library with special emphasis on utilizing information gained from the Eemian period in paleo-history approximately 115,000-130,000 years ago when temperatures and weather conditions were similar to those predicted within the next 50-100 years particularly in the Sierra Nevada.
4) A parallel form emerging is an eco-logical game structure based on the concepts embedded in the ecological definition of the Force Majeure. The Center will utilize resources at UCSC, which is one of the four principal academic game generating institutions in the US.
Though the Harrisons have a number of recommendations, vis-à-vis Transdisciplinarity, they haven't explicitly included the complex issue of human-brain and autonomic nervous system development. Indirectly, however, they contribute this prospect as they advise university researchers in multiple fields to work in tandem with high caliber creators and scientist, gradually assisting the process for establishing a strong co-evolutionary curriculum. They recommend universities create collaborative ateliers of transdisciplinary research, free from any ideological, political, or religious control.
They also suggest university authorities (presidents, heads of departments, etc.) all devote 10% of their discipline teaching time to Transdisciplinarity.
The Harrisons' archive, housed at Stanford University, is an invaluable resource for informing Transdisciplinarity's future. While their life's work supports individual and small group proposals like "Mode 2's" (4.2), they have foremost established an integrated language whereby art, science, and public policy can advance an actual transdisciplinary model. Since they themselves began their work long before there were agencies within universities, they were free of constraints. While their guiding light was based in part on being good landholders—their "client" being Nature itself—today they believe stewardship itself is insufficient. "Rather, we have to change ourselves, our culture and in so doing assist nature so that all may continue in the face of what appears to be the beginning of the sixth mass extinction."
source: Nature As Discourse: A Co-Evolutionary Systems Approach to Art and Environmental Design by Susannah Hays
http://artsresearch.ucsc.edu/force-majeure
http://theharrisonstudio.net/
Helen a Newton Harrisonovi bývají řazeni k oblasti tzv. "zemního umění", "ekoumění", případně "systémového", nebo "environmentálního umění", ale jejich přístupy a metody lze s těmito kategoriemi ztotožnit jen povšechně. "Přijdeme na místo a hledáme jeho příběh. Navrhneme nějakou reprezentaci tohoto příběhu, přemýšlíme o tom jak vznikl a spojíme jej s vlastním příběhem. Naše metoda práce spočívá v hledání způsobu, jak nejlépe přispět k poesií celkového,"(Newton Harrison, 1987). Začínáme tím, že si v konkrétním prostředí hledáme prvek anomality, neco nečekaného, něco, co má zdroj ve střetu koncepcí víry, nebo vychází ze setkání protikladných metafor.. Všímáme si momentů, kdy se skutečnost přestavá jevit jako samozřejmá..." Většina jejich děl od 70. let vzniká pod hlavičkou "The Harrison Studio", což je společenství tvořené společenstvím spolupracovníků a odborníků různých oborů. Harrisonovi pracují také často komunitně a kolaborativně. Místní komunita v některých případech v jejich projektech pokračuje sama.
Umělecké aktivity Američanů Helen a Newton Harrisonových se pohybují na hranici umění, environmentálních, přírodních věd a ekologického aktivismu. Vznikaly v kontextu turbuletních společenských pohybů v USA konce šedesátých let. Helen Mayer Harrison(*1929)vystudovala literaturu, psychologii a sociální antropologii a vyučovala na Univerzitě v Kalifornii, kde Newton (*1932)učil sochařství v pozici hostujícího profesora. Helen ovlivila kniha "Tiché jaro" Rachel Carsonové (1962) a další publikace, definující zrod povědomí širší veřejnosti o problematice ovlivnění životního prostředí antropickými faktory. Newton Harrison přizval Helen k spolupráci na výstavě "Fur and Feathers", (1969-1970), s tématem vyhynutí a ohrožení biologických druhů. Počátkem 70. let Harrisonovi spoluečně realizovali sérii projektů "Survival Pieces". "Hog Pasture", 1970-71 vznikl pro výstavu "Země, vzduch, oheň a voda" v Bostonu a byla to dřevěná bedna s trávou, s umělým osvětlením . Zeminu si připravili umělci sami, pdobně jako když v rámci předchozího díla "Making Earth", 1970, vytvořili směs písku, jílu, vody, listí a hnoje. Zemina byla v galerii zalévána a kypřena. Organické materiály použili také v "Shrimp Farm: Survival Piece #2", (1971), kdy použili vodní řasy a žábronožky. Instalace sestávala ze čtyř dřevěných nádrží s vodou s různými koncentracemi obsahu soli. Řasy produkují barvivo karoten a tak zabarvily vodu v nádržích v různých odstínech. Ve druhé fázi přidali umělci žábronožky, živící se řasami. Postupně s úbytkem řas a výparem voda měnila svoji barvu.
Silnou kontroverzi vzbudilo dílo "Survival Piece #3, Portable Fish Farm", 1971(Dílo o přežití č. 3, Přenosná rybí farma), kde pro výstavu "11 Los Angeles Artists" v Londýně umístili 6 kádí s živými sumci, humry, žábronožkami a planktonem. Dílo vniklo v souvislosti s aktuální důležitostí tématu umělých ekosystémů, ale i umělým pěstováním ryb, výzkumem potravních řetězců a vegetačních rituálů. Newton Harrison zamýšlel část sumců na vernisáži vylovit, usmrtit a předložit k jídlu hostům. Zabití bylo šetrnější, než jakým jsou ryby zabíjeny obvykle, ale ohlášená performance vyvolala vlnu protestů, Spore mezi Royal Society for the Prevention of Cruelty to Animals, RSPCA) a další ochránci zvířat na jedné straně a zastánci svobody uměleckého vyjádření a kritiků cenzury na straně druhé Arts Council vyřešila nařízením, že zabití ryb elektrickým proudem nezakázala, ale usmrcení nesmělo být provedeno jakou součást veřejné performance.
Další dílo série O přežití "Portable Orchard", (1972-73), sestávalo z 12 dřevěných beden s hlínou a ovocnými stromy. Harrisonovi tak reagovali na úbytek sadů v důsledku průmyslového rozvoje, růstu městských a předměstských zón a zvyšování hladiny emisí v Kalifornii a použili slogan "Poslední pomerančový sad v Pomerančovém kraji". Některým stromům se v galerii nedařilo, jiné prospívaly a součástí díla byla opět sklizeň a hostina. Sérii "O přežití" zakončili "Full Farm", 1974, což byla kombinace ovocného sadu, bramborového pole, záhonů a farmy pěstování žížal.
V letech 1976-77 vznikly "Meditations on the Sacramento River", kde využívali performance, mapování, informační panely, pouliční graffiti, billboardy, plakáty a texty. Jde o příklad těsné spolupráce umělců s vědci. Příprava projektu spočívala v několikaměsíčním výzkumu v knihovně Berkeley Water Resources . Výsledné texty jsou zasvěcenou i poeticky pojednanou kritikou probíhající destrukce orné půdy i vodních systémů. Jsou apelem k jiném přístupu k životu a po změně našich priorit."Pokud nezměníme paradigma formující energetickou a kulturní politiku jako jsou vykořisťování, spotřeba, přeměna na vlastnictví, zaměření na zisk, budeme konfrontování s nevratnými změnami, způsobenými naím postojem k přírodě" (Harrison a Harrison, 1977).
Za pomyslný předěl mezi "převážně uměleckými" a "převážně ekologickými" projekty je považován "The Lagoon Cycle", 1973-1985, reflektující způsoby využívání vodních ekosystémů od Srí Lanky po Salton Sea v Kalifornii. V díle prezentovaném na panelech s fotografiemi, nákresy, mapami a popisky autoři používají pomyslný dialog mezi tvůrcem laguny (Lagoon Maker) a Svědkyní (Witness). Odkrývají některé tvůrčí metody spolupráce a dialogu uvnitř autorské dvojice. V sedmi příbězích se laguna stává unikátním ekosystém, ohroženým civilizačními vlivy. Je to zároveň metafora života v obecném holistickém kontextu. Na panely, které od vědecko-ochranářského projektu odlišuje jejich poetičnost a umístění v galerii, jsou navázána i další díla, konkrétně ilustrující zjištěná fakta "Lagoon – Simulating Monsoon", (1973), konkrétně nádrž, v níž v rámci druhé části cyklu Harrisonovi vytvořili podmínky pro chov mangrovových krabů. Pokus posílit populaci kraba, který vlivem nadměrného lovu téměř vymizel ze svého původního biotopu nakonec zůstala jen v konceptu, stejně jako model řešení jiných environmentálních problémů, jichž se Harrisonovi zabývali.
Mezi jpozdější environmentálně-umělecké projekty patří například návrh pěší zóny "Baltimore Promenade", (1981), částečně realizovaný projekt revitalizaci řeky Sávy "Atempause: Breathing Space for the Sava River" 1989-1990, "Greenhouse Britain", 2007-09, mapující důsledky zvýšení hladiny oceánů na ostrov Velké Britínie, "Penisula Europe" (2000 – 2008) a "The Force Mayeure" (2007 – 2016). Poslední projek Z vyšší moci se zabývá jevem entropie, ke které lidstvo svými aktivitami podle Harrisonových přispělo. "Energii, kterou jsme rozmařile plýtvali a rozmělnili tak její sílu nebudeme už nikdy schopni vrátit".
V Československu Harrisonovi pracovali začátkem 90.let na systémovém projektu, zaměřeném na revitalizaci řeky Labe. Podobně jako mnoho jejich vizionářských projektů skončil labský projekt ve stavu prvotního výzkumu.
zdroj: wikipedie
Links
File downloads

CFM document
Gallery