Blog posts
Center for Land Use Interpretation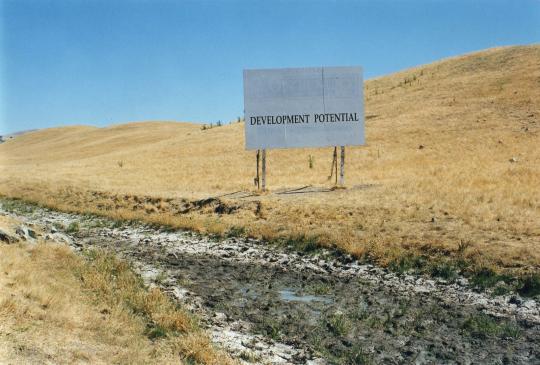 Centrum pro interpretaci užití země CLUI je nezisková výzkumná a vzdělávací organizace se sídlem v L.A., zaměřená na "posilovaní a šíření informací o tom, jak je půda rozdělována, využívána a pociťována". Nejde o instiuci zabývající se výslovně ochranou přírody, ale zdaleka ani o průmyslový, nebo developerský projekt. CLUI zkoumá spíš způsoby jak se lidé v USA chovají k půdě, tedy je krajině. CLUI provozuje vedle výstav, přednášek a expedicí také rezidenční program nedaleko Velkého solného jezera (Great Salt Lake) v Utahu. Umělci zde mají možnost žít několik měsíců v areálu bývalé letecké základny, kde se mohou v klidu dlouhodobě zabývat místním neobvyklým prostorem.
O co se tedy CLUI zajímá? V roce 1957 armádní letoun omylem shodil vodíkovou bombu na prázdný kus země nedaleko města Albuquerque v Coloradu. Ačkoli jaderná nálož byla už deaktována bomba při nárazu vybuchla a vyhloubila hluboký kráter. Také pokryla celé okolí prachem s plutoniem a zabila jednu krávu. Ve státě New York bývalo město Neversink, které v roce 1953 - poté co celou oblast zaplavila nádrž pro vodu zasobující New York - zmizelo z povrchu země. Nebo nejdelší dálnice bez zatáčky v USA vede pouští nedaleko Barstow v Kalifornii a dopravní značka řidičům oznamuje že "přístích 22 mil není ABSOLUTNĚ NIC" .
Stovky podobných míst v americké krajině organizace "Centrum pro interpretaci užití půdy" navštívila a zdokumentovala. Jde o neziskovou organizaci s poněkud neobvyklým programem, která operuje už přes 25 let. Zaměstnanci a dobrovolníci cestují po amerických krajinách aby zaznamenali a katalogizovali různé typy míst, kde lze vidět střet zájmů člověka a přírody. Všimnou si fenoménů jako jsou obří parkoviště s karavany, povrchové doly, Saltonovo moře, kanál u jezera Erie, budova ve tvaru košíku na piknik, nebo filmové kulisy z filmu Ground Zero Olivera Stonea. Metodologicky jde o nadoborové protnutí kombinující přístupy známé z geografie, geologie, environmentálních studií, umění, architektury a historie, i když některé projekty občas skrývají jistý smysl pro humor: například umístili do opuštěného lesa ve státě Maine reproduktor a přehráli nahrávku zvuku padajícího stromu. Většinou dotyčné lokace dokumentují fotograficky a textem a každé místo dostává osobitý charakter. Ať jde o nějakou turistickou atrakci World O 'Tools Museum v Tennessee, nebo kráter ve kterém NASA trénovalo posádku Apolla, protože připomínal podmínky na měsičním povrchu.
Zakladatel organizace Matthew Coolidge vystudoval na Bostonské univerzitě obor geomorfologie - což je obor evoluce zemských mas a tvrdí, že "lidé jsou rostoucí mírou součástí geomorfologického procesu, protože dnes na Zemi nenajdete molekulu, která by se nikdy nesetkala s lidským činitelem". Coolidge s malou skupinkou přátel "Centrum pro interpretaci užití země" CLUI založili v Oaklandu v Kalifornii a v roce 1996 se přestěhovali do Los Angeles. Sídlí ve Venice což je nedaleko podobně neobvyklé instituce, kterým je Muzeum jurské technologie. Díky grantům je v CLUI zaměstnáno několik stálých pracovníků, navíc spolupracují s mnoha architekty, urbanisty, studenty, učiteli umění a fotografy.
Výzkum morfologie a patologie lidmi utvářené krajiny a obecně prostředí je často vede k pozapomenutým místům a pomezím jako jsou města duchů, opuštěné ponuré průmyslové zóny, nebo mizející vodní plochy. Centrum se zaměřuje také na výzkum rozlehlých oblastí, které Pentagon pokládá za příhodné pro skladování nebezpečného odpadu a jako laboratoř pro nukleární pokusy. CLUI pořádá expedice do pouští jižní Kalifornie, do sanfranciského zálivu, nevadské Nellis Range, do zón tajných testovacích a výcvikových aktivit. atd.
Další podrobnosti najdete na webových stránkách clui.org, včetně zpravodaje The Lay of the Land, vydávaného od roku 1995 a databáze s popisy zpracovaných míst.
Podobný projekt který ovšem působí v planetárním měřítku je Tomorrows Thoughts Today (http://www.tomorrowsthoughtstoday.com) autralského spekulativního architekta Liama Younga.
Gallery