Blog posts
"I am become Death, the Destroyer of Worlds" - The Russell-Einstein Manifesto and the Short Comment on Ecopatism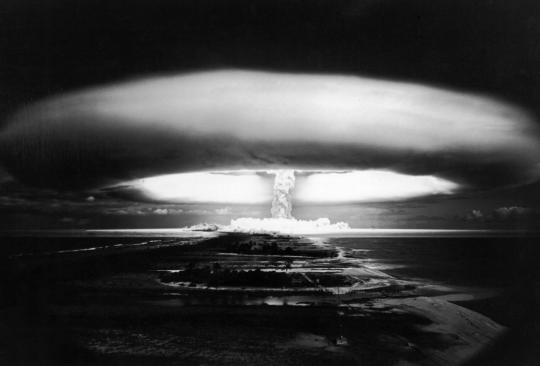 The term ecopathy is derived from two Greek words, oikos for "house" and pathy for "sickness", "disease" or "suffering". In a way it means a "sick house", a house which is not healthy, pleasant to live in. Or it is reffering to a wrong "house owner", a psychopath, somebody who is treating his or a commong house in dangerous way. In broader, social, or planetary scale it means a sick way of acting of certain species towards its environment. The word recognizes that the changing environmental condition of our planet is the direct result of our indifference and negligence in human behaviour that we seem not able of correcting, even though some people have known for long time, what to do and how to do it. The origin of the term "have emerged from the reflections of environmentally conscious Buddhist scholars in the West who would have been comparing the importance of compassion in their tradition to its relative absence in humanity's treatment of nature".

The West was for centuries absorbed in a cage of Cartesian paradigm: there is a clear distinction between Us - the mankind, and It - the "world Outside", "Reality". Between res cogitans and res extensa, which is non-cogitans, not thinking. In the Cartesian view, the distinction between two concepts is a methodological necessity driven by "a distrust of the senses and the res extensa as it represents the entire material world". Edmund Husserl in 1931 offered in his Cartesian Meditations: An Introduction to Phenomenology a radically different concept of the Reality, though "one might almost call transcendental phenomenology a neo-Cartesianism, even though It Is obliged — and precisely by its radical development of Cartesian motifs — to reject nearly all the well-known doctrinal content of the Cartesian philosophy." In a way this mindset caused the development of Cybernetics and Cybernetics of Second Order, which brings the feeling of unity of two aspect of "reality" back: this what is observing and this what is observed. This was developed from an examination of the nature of "feedback" and the "Black Box"—both seen as "circular systems, where the circularity is taken seriously". (Paul Pangaro)
In the early 1930s, Albert Einstein asked Sigmund Freud how might be the approaching global war prevented? Freud wrote back in his letter that Thanatos "is at work in every living creature and is striving to bring it to ruin and to reduce life to its original condition of inanimate matter" and referred to it as a "death instinct." According Freud, Thanatos was an innate biological process with significant mental and emotional consequences – a response to, and a way to relieve, unconscious psychological pressure.
Even Einstein seemingly believed in the gap between Mankind and Environment: "The environment is everything that isn't me." This seems from today perspective a bit short minded. As if only the weltangst and the experience of the possibility of termination of human existence on the Planet could return us to the notion of feedback, the Ethernal Chain of Beings, to fix the tension between our minds and our bodies.
Robert Oppenheimer recalled that, while witnessing the explosion of the nuclear bomb in 1945, he thought of a verse from the Bhagavad Gita (XI,12):
If the radiance of a thousand suns were to burst at once into the sky, that would be like the splendor of the mighty one ..
Years later he would explain that another verse had also entered his head at that time: namely, the famous verse which he translated as:
"I am become Death, the destroyer of worlds."
In 1965, he was persuaded to quote again for a television broadcast: "We knew the world would not be the same. A few people laughed, a few people cried. Most people were silent. I remembered the line from the Hindu scripture, the Bhagavad Gita; Vishnu is trying to persuade the Prince that he should do his duty and, to impress him, takes on his multi-armed form and says, 'Now I am become Death, the destroyer of worlds.' I suppose we all thought that, one way or another."
Shortly before Einstein died in April 1955 he endorsed with Bertrand Russell a declaration calling for the renunciation of war because the invention he was involved in, the nuclear boms are threatening "the continued existence of mankind." Lord Russell published the text of the declaration, signed also by six other scientists. On the same day he posted letters to Sir Anthony Eden, President Eisenhower, Marshal Bulganin, Chou En-lai, President Coty of France, and the Prime Minister of Canada St Laurent.
'It is feared that if many H-bombs are used there will be universal death, sudden only for a minority, but for the majority a slow torture of disease and disintegration', stated the 1955 Russell-Einstein Manifesto. The signatories, mostly physicists, spoke as 'members of the species Man', although Woman was excluded and no other species signed. They asked that the politics of communism and anti-communism be set aside, and that citizens of the world '…consider yourselves only as members of a biological species which has had a remarkable history, and whose disappearance none of us can desire.'
The Russell-Einstein Manifesto
In the tragic situation which confronts humanity, we feel that scientists should assemble in conference to appraise the perils that have arisen as a result of the development of weapons of mass destruction, and to discuss a resolution in the spirit of the appended draft.

We are speaking on this occasion, not as members of this or that nation, continent, or creed, but as human beings, members of the species Man, whose continued existence is in doubt. The world is full of conflicts; and, overshadowing all minor conflicts, the titanic struggle between Communism and anti-Communism.

Almost everybody who is politically conscious has strong feelings about one or more of these issues; but we want you, if you can, to set aside such feelings and consider yourselves only as members of a biological species which has had a remarkable history, and whose disappearance none of us can desire.

We shall try to say no single word which should appeal to one group rather than to another. All, equally, are in peril, and, if the peril is understood, there is hope that they may collectively avert it.

We have to learn to think in a new way. We have to learn to ask ourselves, not what steps can be taken to give military victory to whatever group we prefer, for there no longer are such steps; the question we have to ask ourselves is: what steps can be taken to prevent a military contest of which the issue must be disastrous to all parties?

The general public, and even many men in positions of authority, have not realized what would be involved in a war with nuclear bombs. The general public still thinks in terms of the obliteration of cities. It is understood that the new bombs are more powerful than the old, and that, while one A-bomb could obliterate Hiroshima, one H-bomb could obliterate the largest cities, such as London, New York, and Moscow.

No doubt in an H-bomb war great cities would be obliterated. But this is one of the minor disasters that would have to be faced. If everybody in London, New York, and Moscow were exterminated, the world might, in the course of a few centuries, recover from the blow. But we now know, especially since the Bikini test, that nuclear bombs can gradually spread destruction over a very much wider area than had been supposed.

It is stated on very good authority that a bomb can now be manufactured which will be 2,500 times as powerful as that which destroyed Hiroshima.

Such a bomb, if exploded near the ground or under water, sends radio-active particles into the upper air. They sink gradually and reach the surface of the earth in the form of a deadly dust or rain. It was this dust which infected the Japanese fishermen and their catch of fish.

No one knows how widely such lethal radio-active particles might be diffused, but the best authorities are unanimous in saying that a war with H-bombs might possibly put an end to the human race. It is feared that if many H-bombs are used there will be universal death, sudden only for a minority, but for the majority a slow torture of disease and disintegration.

Many warnings have been uttered by eminent men of science and by authorities in military strategy. None of them will say that the worst results are certain. What they do say is that these results are possible, and no one can be sure that they will not be realized. We have not yet found that the views of experts on this question depend in any degree upon their politics or prejudices. They depend only, so far as our researches have revealed, upon the extent of the particular expert's knowledge. We have found that the men who know most are the most gloomy.

Here, then, is the problem which we present to you, stark and dreadful and inescapable: Shall we put an end to the human race; or shall mankind renounce war?1 People will not face this alternative because it is so difficult to abolish war.

The abolition of war will demand distasteful limitations of national sovereignty.2 But what perhaps impedes understanding of the situation more than anything else is that the term "mankind" feels vague and abstract. People scarcely realize in imagination that the danger is to themselves and their children and their grandchildren, and not only to a dimly apprehended humanity. They can scarcely bring themselves to grasp that they, individually, and those whom they love are in imminent danger of perishing agonizingly. And so they hope that perhaps war may be allowed to continue provided modern weapons are prohibited.

This hope is illusory. Whatever agreements not to use H-bombs had been reached in time of peace, they would no longer be considered binding in time of war, and both sides would set to work to manufacture H-bombs as soon as war broke out, for, if one side manufactured the bombs and the other did not, the side that manufactured them would inevitably be victorious.
Although an agreement to renounce nuclear weapons as part of a general reduction of armaments3 would not afford an ultimate solution, it would serve certain important purposes.

First, any agreement between East and West is to the good in so far as it tends to diminish tension. Second, the abolition of thermo-nuclear weapons, if each side believed that the other had carried it out sincerely, would lessen the fear of a sudden attack in the style of Pearl Harbour, which at present keeps both sides in a state of nervous apprehension. We should, therefore, welcome such an agreement though only as a first step.

Most of us are not neutral in feeling, but, as human beings, we have to remember that, if the issues between East and West are to be decided in any manner that can give any possible satisfaction to anybody, whether Communist or anti-Communist, whether Asian or European or American, whether White or Black, then these issues must not be decided by war. We should wish this to be understood, both in the East and in the West.
There lies before us, if we choose, continual progress in happiness, knowledge, and wisdom. Shall we, instead, choose death, because we cannot forget our quarrels? We appeal as human beings to human beings: Remember your humanity, and forget the rest. If you can do so, the way lies open to a new Paradise; if you cannot, there lies before you the risk of universal death.

Resolution:

We invite this Congress, and through it the scientists of the world and the general public, to subscribe to the following resolution:

"In view of the fact that in any future world war nuclear weapons will certainly be employed, and that such weapons threaten the continued existence of mankind, we urge the governments of the world to realize, and to acknowledge publicly, that their purpose cannot be furthered by a world war, and we urge them, consequently, to find peaceful means for the settlement of all matters of dispute between them."

Signatories:

Max Born
Percy W. Bridgman
Albert Einstein
Leopold Infeld
Frederic Joliot-Curie
Herman J. Muller
Linus Pauling
Cecil F. Powell
Joseph Rotblat
Bertrand Russell
Hideki Yukawa

Issued in London, 9 July 1955

The Russell–Einstein Manifesto became the Pugwash Conferences' founding charter. The first of the conferences was held in July 1957 in London.

In his recent published book, associate professor in the College of Arts and Sciences at the University of South Florida Daniel Belgrad, tells the story of a clash where conservative forces actively undermined the potential of ecological thinking. Attempts at reaching beyond of neoliberalism, of the society of "the Self" were replaced by protective barriers: the Sony Walkman, the gated community, and Reagan's orbiting Cold War lasers. Belgrad clearly preferring to focus on why ecological thinking is worth recovering rather than how its legacy came to be trammeled. The denouement that previous histories have pegged to 1968 has just been pushed a little further along, attributed to the conservative forces of the 1980s.
Gallery