Blog posts
W. H. Auden: Journey to Iceland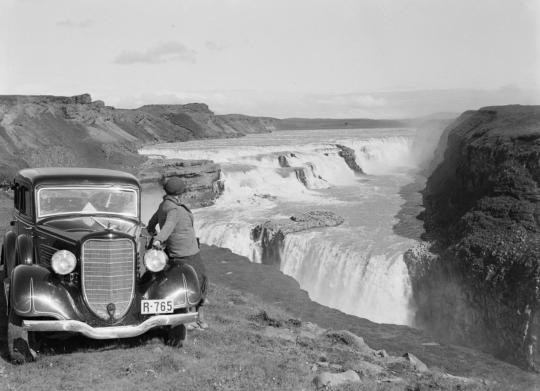 Árið 1936 ferðaðist Breti um þrítugt til Íslands. Hann hét Wystan Hugh Auden, alltaf kallaður W.H. Auden og var um þær mundir eitt nafntogaðasta skáld enskrar tungu af yngri kynslóð og varð síðar eitt allra áhrifamesta ljóðskáld tuttugustu aldar.
Hann eyddi þremur mánuðum hér á landi ásamt vini sínum, írska skáldinu Louis MacNiece. Þeir gáfu síðan saman út bókina Letters from Iceland sem er öðrum þræði ferðasaga og lýsing á Íslandi en í bókinni er líka mikið af skáldskap og hugleiðingum þeirra félaga sem koma Íslandi ekki við. Nöturleg lýsing Auden á Reykjavík féll ekki í frjóan jarðveg. Mörgum fannst hann vega að íbúum höfuðborgarinnar.
The book Letters from Iceland is made up of a series of letters and travel notes by poets W.H.Auden and Louis MacNeice written during their trip to Iceland in 1936. Auden's contributions include the poem "Journey to Iceland"; a prose section "For Tourists"; a five-part verse "Letter to Lord Byron"; a selection of writings on Iceland by other authors, "Sheaves from Sagaland"; a prose letter to "E. M. Auden" (E.M. was Erika Mann), which included his poems "Detective Story" and "O who can ever praise enough"; a prose letter to Kristian Andreirsson, Esq.; a free-verse letter to William Coldstream, and, in collaboration with MacNeice, "W. H. Auden and Louis MacNeice: Their Last Will and Testament".
And the traveller hopes: 'Let me be far from any

Physician'; and the ports have names for the sea,

The citiless, the corroding, the sorrow,

and North means to all: Reject.
And the great plains are forever where the cold fish is hunted,

and everywhere; the light birds flicker and flaunt;

Under the scolding flag the lover

Of islands may see at last,
Faintly, his limited hope, as he nears the glitter

Of glaciers, the sterile immature mountains intense

In the abnormal day of this world, and a river's

Fan-like polyp of sand.
Then let the good citizen here find natural marvels:

A horse-shoe ravine, an issue of steam from a cleft

In the rock, and rocks, and waterfalls brushing

Rocks, and among the rock birds.
And the student of prose and conduct places to visit:

The site of a church where a bishop was put in a bag,

The bath of a great historian, the fort where

An outlaw dreaded the dark,
Remember the doomed man thrown by his horse and crying,

'Beautiful is the hillside. I will not go',

The old woman confessing 'He that I loved the

Best, to him I was worst'.
For Europe is absent: this is an island and therefore

A refuge, where the affections of its dead may be bought

By those whose dreams accuse them of being

Spitefully alive, and the pale
From too much passion of kissing feel pure in its deserts.

Can they? For the world is, and the present, and the lie.

The narrow bridge over a torrent,

And the small farm under a crag
Are the natural setting for the jealousies of a province;

And the weak vow of fidelity is formed by the cairn;

And within the indigenous figure on horseback

On the bridle-path down by the lake
The blood moves also by crooked and furtive inches,

Asks all our questions: 'Where is the homage?
When shall justice be done? Who is against me?

Why am I always alone?'
No, our time has no favourite suburb; no local features

Are those of the young for whom all wish to care;

The promise is only a promise, the fabulous

Country impartially far.
Tears fall in all the rivers. Again the driver

Pulls on his gloves and in a blinding snowstorm starts

Upon his deadly journey, and again the writer

Runs howling to his art.
Hér er svo þýðing Magnúsar Ásgeirssonar á ljóðinu
Og sæfarinn óskar: Æ, sé nú hver læknir mér fjarri!
og sjávarnöfn skáldanna fylgjast með honum um borð:
Borgleysa, Ótryggur, Svörfuður, Sorgin.
Og Synjun er Norðursins orð.
Og ómælissléttur hins blóðkalda veiðifisks blika,
og brim er í lofti af vængjum svífandi flokks.
Og undir þeim þjótandi, iðandi fána
sér eyjavinurinn loks
hilla undir von sína: og fannblikið nær honum færist,
fjöllin, nakin og seiðsterk, um vornætur dag.
Og undir þeim sandflæmi í ósum fljóta,
sem árskrímsl með blævængslag.
Svo megi hinn ágæti borgari furður hér finna:
fjöll eins og hófspor, eimgos sem bergrifa spýr,
gljúfur og fossa og hornbjargsins háu
höll, þar sem sjófuglinn býr.
Og höfundur sá, er vill kynna sér kjör manna og háttu:
kirkjustað biskups, sem troðið var niður í sekk,
laug mikils sagnfræðings, klettaey kappans,
sem kvíða langnættið fékk.
Og munið hinn seka, er fákur hans féll og hann mælti:
"Fögur er hlíðin og aftur um kyrrt ég sezt,"
konuna gömlu, sem vitnaði: "Ég var þeim
verst, er ég unni mest."
Því Evrópa er fjarri, og einnig þá raunveruleikinn.
Við öræfa- og söguhefð landsins þeir kaupa sér dvöl,
sem dreymir sitt líf vera í óþökk, til einskis,
og andlitin fölu sem böl
of heitra tálkossa tærði, á þess öræfum laugast.
En tekst það? Því Heimur, Nútími og Lygi eru sterk.
Og hin örmjóa brú yfir beljandi ána
og bærinn í fjallsins kverk
eru eðlileg virki og herstöðvar héraðarígsins,
sem hollustu þegnsins bindur við merkjastein.
Og í bóndanum þarna, sem berst á hesti
út bakkans vallgrónu hlein,
sig þumlungar líka blóðið á bugðóttum leiðum
og biður um svör, eins og þitt: Finnst ei trúnaður neinn?
Ó, hvað dvelur réttlætið? Hver er gegn mér?
Ó, hví er ég stöðugt einn?
Svo kynnum þá heiminum eyna, hans eltandi skugga,
með oflæti í búningi og versnandi fisksölukjör.
Í afdal hvín jazzinn, og æskunnar fegurð
fær alþjóðlegt filmbros á vör.
Því hvergi á vor samtími vé þau, er allir unna.
Vor æska ekki neina staðhelgi, verndaðan reit.
Og fyrirheitið um ævintýraeyna
er eingöngu fyrirheit.
Tár falla í allar elfur og ekillinn setur
aftur upp glófa og bíl sinn á vegleysur knýr
í æðandi blindhríð, og emjandi skáldið
aftur að list sinni flýr.
Related
Field Work and Ecology
This expedition through Iceland will lead participants to various locations in the South, East and North of Iceland where the untapped sources of renewable energy – water, steam, and wind – as well as the impacts of hydro- and geothermal power plants on the landscape and on local micro-economies, can be observed. We will visit the largest rockfill dam in Europe, Kárahnjúkar dam, as well as the aluminium factory for which it was built, and the affected river systems. The construction of Kárahnjúkar dam (2003-07), and the political process leading up to it, have been the subject of extreme controversy in Iceland. Under the current government, plans for more hydroelectric mega-dams are under way. They promote an intensified "harvesting" of the country's large number of free-running rivers and promise cheap "green" energy – with the aim of attracting investors, multinational corporations, and energy-hungry heavy industry to Iceland. Participating artists will meet with experts from other disciplines and will be introduced to the ecological, political and socioeconomic aspects of the sites visited. The program intends to feed into a critical and informed debate about case-specific ecological and socioeconomic co-dependencies, and about the means and ends of renewable energy production and energy consumption. Program 10. Aug: Arrival of artists in Reykjavík/Keflavík Airport Travel by car to Akureyri 11. Aug: Travel along the north coast to Lake Myvatn, geothermal landscapes of Krafla, through the northeast to Dettifoss nad waterfalls Egilsstadir 12 Aug: Afternoon meeting at Skaftfell Center for Visual Art, talk by Markús Þór Andrésson 13 Aug: Visit to Skálanes Nature and Heritage Centre, Seyðisfjörður 14 Aug: Site visit to Reydarfjördur, tour to Alcoa Aluminium Smelter 15 Aug: Site visit to Kárahnjúkar hydroelectric dam in Eastern Highlands 16 Aug: Site visit to Lake Lagarfljót and Heradsflói Estuary 17 Aug: Return to Seyðisfjörður, evening meeting at Skaftfell Project Space, sharing of visual material, observations, thoughts, open to the public 18 Aug: Travel along south coast to Reykjavík, (Jökulsárlón Ice Lagoon, glacial estuaries, geothermal greenhouses Hveragerði Accommodation at SÍM (Association of Icelandic Artists) 19 Aug: talk by Andri Snær Magnason, and evening screening of "Dreamland" movie, based on his book Dreamland, discussion on the planned projects and impressions of the participants 20 Aug Departure day from Reykjavik Participants: Pavel Mrkus, Diana Winklerová, Greg Pope, Ivar Smedstad, Karlotta Blöndal, Finnur Arnar Arnason Organisation: Julia Martin, Tinna Guðmundsdóttir Documentation: Lisa Paland …