Blog posts
Tajemství spolupráce: Miloš Šejn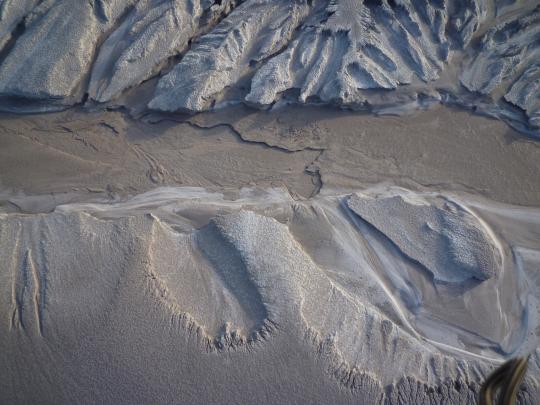 Normy, předpisy, historická schémata, dobře! Je ale třeba se naučit snít! A naučit se zapomínat, že ten kdo sní jsem já! A kdo tedy sní? Celý svět v nás a kolem nás! To není žádné ideologické celostní age.
Často se dnes hovoří o nutnosti propojit umění a vědu. Architektura je a vždycky byla takovým propojením. Ale žádný dům, zahrada, mlýn či uhlířův kopec nebyly pouhými místy o sobě. Byly součásti mračných staveb, táhnoucích věky. Plameny podzemí vždy mířily svými jazyky až do lásek mezi pohlavími rostlin, ryb, ptáků či lidí. A proto je zapotřebí - alespoň na okamžik - zkusit myslet i mimolidsky. Vím, zní to bláznivě a vím, že to je těžké. Jak architekt, umělec či filozof mohou tvarovat a nemít k tomu slova?
Na počátku devadesátých let byli v Praze manželé Helen a Newton Harrisonovi. Jejich myslí znělo hluboké volání vody. Vody budující tvary a kolující v žilách nás všech. Co nám říkali? Je třeba naslouchat řece, aby nám sama napověděla, co chce.
A ještě dál.
Pokud se jako umělci dopracujeme k nějakým řešením a nalezneme symbolické klíče, jež by mohly proniknout do myslí lidí, abychom mohli nalézt alespoň nějaké cestičky vedoucí k nápravě, - nakonec ale stejně - je třeba, abychom se jako skuteční umělci stáhli do ústraní a nechali myšlenky zrát a klíčit v mysli společnosti jako celku. Až do úrovně konečných realizátorů - architektů společnosti.
A přenechat jim autorství.
Nebo alespoň připustit jejich spoluautorství.
V tom spočívá tajemství spolupráce.
Zapomenout co vím a co nevím a nechat ruku i myšlenku volně plynout ve stopách tvarů, jež se vnoří do světa očima široce zavřenýma. To není konec, ale začátek věcí a bytostí nových a přeci odnepaměti přítomných.
Je to jako myšlení a vědomí řeky, jež od podzemního pramene po mořské ústí plyne a tvaruje, jsouc tvarováno tvary živého, neustále plynoucího světa.
Stejné je to i s bodem, čárou i tvarem v jakémkoliv prostředí – abstraktní ploše, digitální množině i světě.
Budoucnosti, minulosti ani přítomnosti není třeba se obávat.
Je nutné přijmout je.
Se všemi výzvami i důsledky. Jsou součástí i ztělesněním celku. Spolupracujícího celku.
Miloš Šejn, 18. 5. 2018
https://vltava.rozhlas.cz/milos-sejn-kazde-bloudeni-konci-pocatkem-6371919
Related
Miloš Šejn
Miloš Šejn (b. 1947, Jablonec nad Nisou, living in Jičín) makes use of a whole range of creative tools and approaches: drawing, painting, photography, film, installations, events, etc. An important element in Šejn's work is its intermediality. His works make use not only of monitors and visual machines, but also of text, words, body movement and spiritual activity itself (that is, the conscience of both the creator and the viewer). The key theme and setting for Šejn's works is the landscape (or nature, which he tends rather to perceive in its fragments). The artist also takes subjective space and the natural image as themes. Šejn perceives the landscape as a primary reality, the fountainhead, root and basis of creation. This landscape is, to a certain degree, culturally constructed (there are paths through it, signs offering help). In the landscape, you then find a subject around which a specific place forms. Space is oriented or made hierarchical by this subject (up and down, back and forth). Such space is inhabitable, navigable. It is meant for existence or residence. The subject is not an abstract celebrity, but a corporal entity – it moves, looks around, perceives and reacts. It touches things from which a sort of indexical or natural image is created. This image has a material correlation to its model (physie eikon, naturselbstdruck, contact photographs, and the like). Šejn's main activity is searching and collecting the pigments and products of nature. An open collection or archive is created from these materials and forms. His paintings are the result of actual events, which are not predestined, but which organise themselves, or develop from a self-regulating structure. …